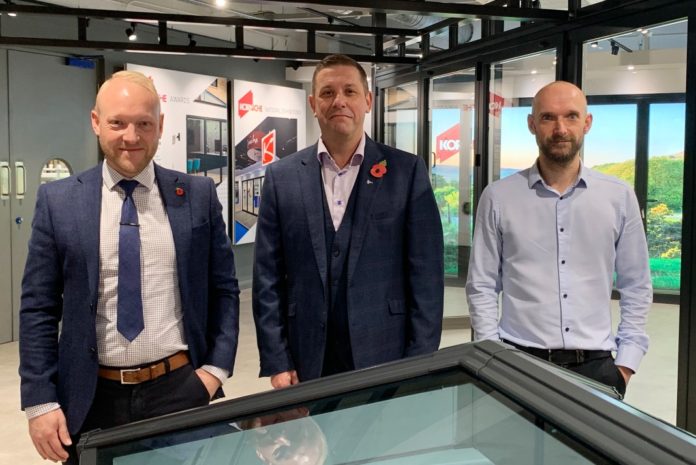 Fabrication specialist Made for Trade (MFT) has appointed Andy Jones as its new commercial director, supporting its strategy to expand out of the small-to-medium enterprise arena and become a larger enterprise. The business hopes that Andy's industry knowledge and established business relationships will be a fantastic asset to MFT's growing sales department, and that his broad experience of glazing products will give new insight into product development strategy.
Andy joins Made for Trade following an exceptional 18 months for the business, and during a period where market demands have created challenges for many in the industry. Despite some bumps in the labour and supply chain, MFT claims to have so far negotiated the issues effectively, despite some increased lead times and associated customer service workload. MFT has also increased its manufacturing resource by 15%, creating and filling around 35 new jobs.
"We are pleased to announce that Andy has joined the team at Made for Trade," said Bradley Gaunt, MFT's managing director. "His industry knowledge is second to none, and he's been bringing some great new ideas and opportunities to the table. His experience will help to support the current directors in areas such as market research, evaluation of areas for strategic growth or diversification and, of course, we are keen to capitalise on his network of industry contacts to acquire new customers."
Andy said: "I am really looking forward to working alongside Brad, Chris and the wider MFT team. I have known MFT and its directors for many years, and have always admired their attention to detail in product design and engineering. Their award-winning products have placed them in a unique position moving forward: they are already the UK's largest manufacturer of aluminium lantern roofs and bi-folding doors, and I look forward to increasing this position over the coming months and years, and taking the Korniche brand to the next level.
"Under Brad and Chris's management, MFT has established itself as the number one trade supplier for these products, and I intend to use my knowledge and industry contacts, gained over the last 35 years, to enhance this position further, as MFT seeks to move to the next stage of their already impressive growth plans. The market has changed hugely over the past 35 years, especially in the past 18 months, and it's no longer the survival of the fittest but more the survival of the most agile. MFT has agility in abundance. I have visited hundreds, if not thousands, of manufacturing companies all over the world in my previous roles, and I can honestly say that I have rarely come across a business which invests so much in research and development, process control, training and continuous improvement as MFT does."
In good company
Alongside Andy, Made for Trade has recently made some other senior appointments: David Jones joined the business as head of finance, having previously worked for a family-run manufacturing firm that experienced the kind of growth that MFT claim to be maintaining. Sufri Weithers also joined the team as sales manager, bringing his many years of service and account management experience to support MFT's expanding customer base.
For more information about Made for Trade's innovative products and best-in-class price and services, visit madefortrade.co. For support with Korniche products, email the marketing team at marketing@madefortrade.co, or visit the new Korniche website.