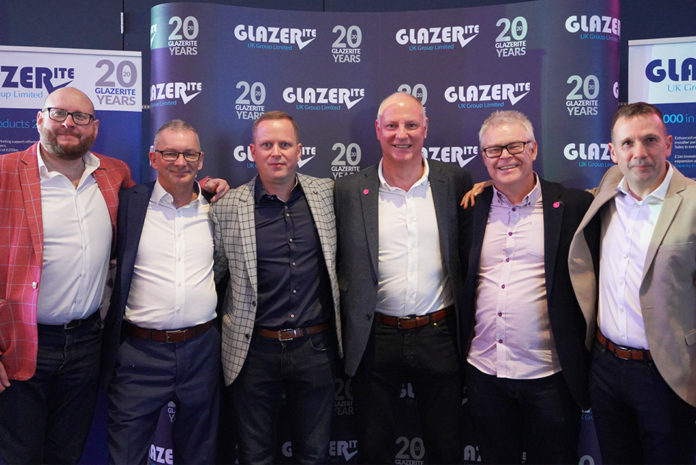 The Glazerite UK Group celebrated its 20th year in business last month, with a party for its 270 employees.
The event, held at the Sywell Aerodrome in Northamptonshire, was attended by staff members and their partners from each of the fabricator's five sites, with food, live music, a DJ, and a casino laid on as part of the evening's entertainment. During the night, Wellingborough-based employee, Shane Hawkes, also had his hair shaved off by his colleagues, raising over £2,000 for Glazerite's nominated charity, We Mind and Kelly Matters.
Glazerite Supervisor, Lyndon Wright, who has reportedly worked at the fabricator's Northwest plant for over 10 years, travelled down from Bolton for the party. He said: "We had a fantastic time. It was such as lovely atmosphere and a good chance to catch up with people from the other Glazerite sites."
The birthday party follows a year of investment for the fabricator, with over £1millon poured into its manufacturing sites in Bolton, Wellingborough and Peterborough, enabling the company to grow capacity to 4,000 frames per week.
Group managing director, Jason Thompson, said: "We wanted to hold a party to celebrate the commitment and dedication put into Glazerite by all of our employees. It was a fantastic way to come together and celebrate everything we've achieved so far; everyone had a great time. Some of our employees travelled a long way on a Saturday to join us and this speaks volumes in itself."
Group marketing manager, Michelle Wright, added: "The event took some serious planning, as we wanted to make it really special for everyone and celebrate 20 years in business. We made a video to show at the party, which captures everything Glazerite is about. It also celebrates our people, and the love our employees have for the company comes across very strongly in it.
"What we've achieved as a fabricator over the last 20 years is very much driven by our founders, Jason Thompson and John Hewitt, who are still very much part of the business today, and who were able to thank everyone personally on the night for the part they've played in creating Glazerite."