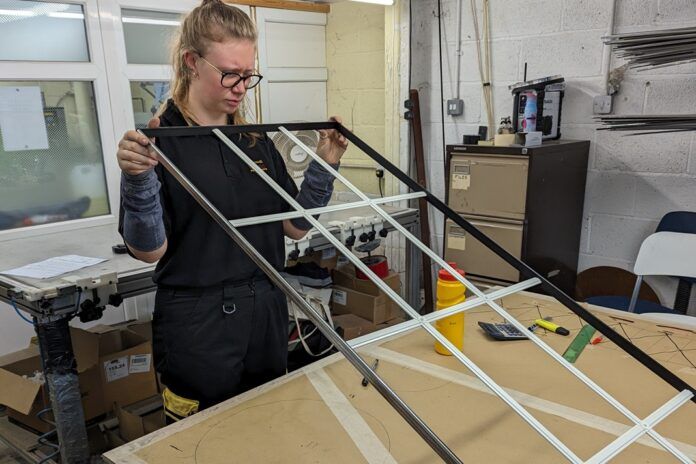 Leaders of the Cornwall Group have praised one of their apprentices, Heidi Boyce, for being ahead of schedule to complete her glass processing qualification. Heidi, who is 20, works at the Highbridge factory of Cornwall Glass Manufacturing alongside completing a Level 2 NVQ in Glass Processing.
"Heidi has worked extremely hard over the course of this year, and she is a really good example of how successful the apprenticeship programme can be," said Dan Payton, general manager. "She is ahead of schedule – a L2 qualification should take up to 12 months and she should be done in nine.
"What's more, the NVQ assessor had nothing but good things to say about her progress. This is down to her commitment to completing her coursework at home, even after a hard work here on the shop floor!"
Dan has now given her the responsibility for specialist orders on the sealed unit line. Heidi is one of 10 apprentices who started working for the glass manufacturer in the last year. The group now employs 20 apprentices.
Emma Harris, Cornwall Group's HR and marketing manager, added: "In Heidi's cohort for 2023, we have installers, glass operatives, trade counter apprentices, engineers and sales office apprentices.
"We are nominating some truly outstanding apprentices for the upcoming Cornwall Apprenticeship Awards, from all departments, including engineering, sales, glass processing, IT, finance, administration and marketing. We are keen to celebrate their achievements because they contribute so much to the group. In fact, 20% of all our colleagues joined the company via the apprenticeship programme, 95% of which have been with us for over five years.
"And they've gone on to build careers at all levels. Our apprentices have gone on to become supervisors, technical representative, senior IT technicians, project leaders, assistant managers, and even a managing director."
For more information about Cornwall Glass, visit the company's website, call 0172 666 325 or email info@cornwallglass.co.uk.