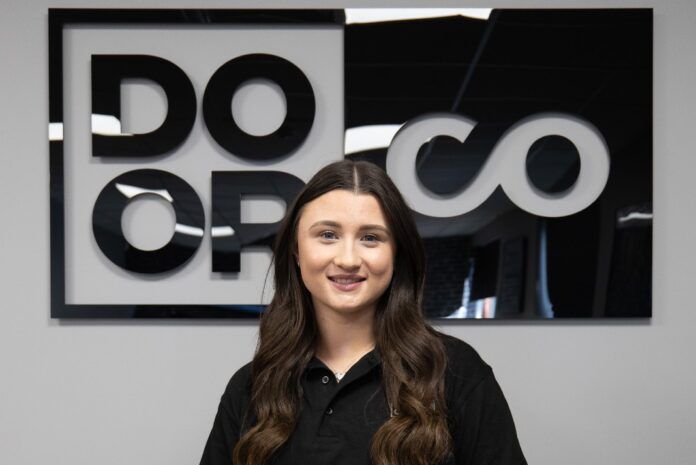 The DoorCo team have welcomed Ellie Pool to the role of marketing manager. "My whole career has been dedicated to marketing and communications, both in-house and in agencies," she said. "My passion and experience has allowed me to wrap my arms around strategies, concepts and campaigns, always with an eye on what the customer wants and needs.
"I've worked with some brilliant and traditionally glamorous brands, which have been great fun but have often almost sold themselves. I want to really push myself as a marketeer. Joining DoorCo and getting involved in a more traditional sector like manufacturing and distribution offers me the chance to exercise my technical, strategic and creative mindsets.
"That is by no means to say that DoorCo is traditional. From the first time I met the team, I was intrigued. It's a fast-paced business with constant product innovation and a passion you can feel. Sure, it may be doors we are talking about but we're also talking about design and colour, attributes I'm so used to working with. Colour represents so much; it has the ability to inspire, excite, soothe, heal and even upset. I am passionate about our look, feel and representation internally and externally.
"What's really interesting too, is DoorCo's commitment to melding these intangibles with hard fact. The teams are absolutely dedicated to tangible data, measurement and insights. Since day one, I have been pouring over the stats and learning what trends are currently moving through the business. With my creative background, this really sparks my imagination and vision, something I look forward to sharing with customers to help them grow their businesses.
"Innovation is at the core of DoorCo and for me, innovation doesn't mean reinventing the wheel – don't fix what isn't broken! DoorCo has built a fabulous reputation amongst their client base and the wider market, and my key role is to continue to grow and develop that, as well as implement more social value, charitable and community facing initiatives. More on this soon!
"For now, my priority is to make sure every single piece of marketing takes our brand reputation one step further and is fundamental to helping set new trends in the composite door market. I hope my experience and passion for ensuring we're always working to be at least 1% better than we were yesterday, will support the business with our exciting growth plans and maintain our commitment to excellence in customer service."
For more information about DoorCo, call 01625 428 955. Alternatively, visit door-co.com.