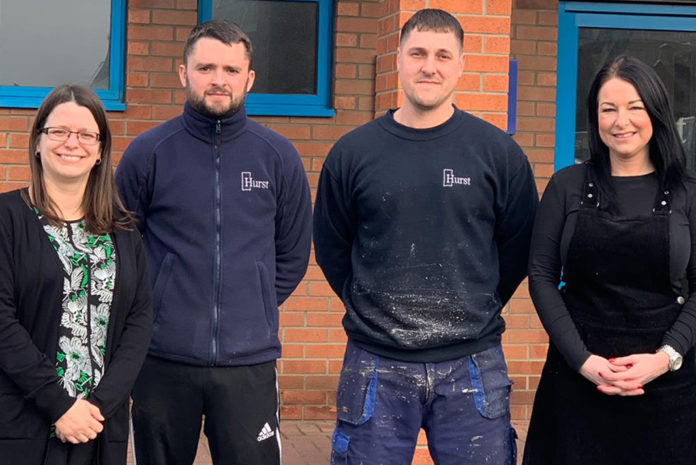 Four members of the Hurst Doors team have been honoured for their hard work and dedication to the business after receiving their 20-year service awards. The awards were presented at their headquarters in Hull in front of the whole Hurst team by Gary Hurst, managing director of the Hurst Group.
Claire Lutkin, Sarah West, Mark Taylor and Chris Edwards all received engraved commemorative crystal tankards and wine glasses, along with being awarded an extra week's holiday entitlement as thanks for their hard work.
Lutkin, West, Taylor and Edwards join 27 other members of the Hurst team, who have been with the business for over 20 years – equating to over 620 years' experience between them.
Sarah West, sales order processor at Hurst Doors, who met her husband at Hurst, said: "One of the best things about working here is how much it feels like one giant family. The panel processing team work closely together and we have great communication with the factory and other departments. This creates product efficiency and means we can respond quickly to any enquiries. Most importantly, the support we receive at Hurst allows us to do our jobs to the best of our abilities whilst picking up new skills along the way."
Claire Lutkin, accounts clerk at Hurst Doors, said: "One of the best things about working here is the sense of team spirit and how we all support each other, it's certainly one of the reasons that so many people choose careers here. It's great to be a part of a team that works so effectively together to make sure we always provide the highest quality products and level of service to our customers."