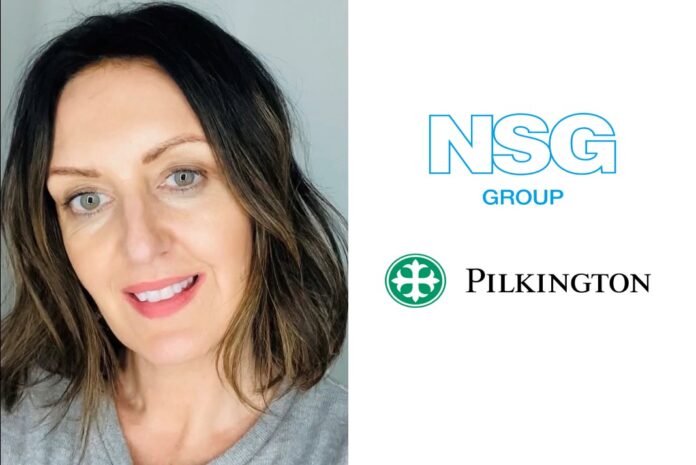 Leaders of the NSG Group have appointed Kristian Chalmers to the newly created post of global strategic commercial manager in the architectural glass strategic business unit. The NSG Group manufactures glass under the Pilkington brand.
Kristian, based at the NSG Group's European Technical Centre in Lancashire, is to support the delivery of the group's pledge to achieve carbon neutrality by 2050. She'll be responsible for broadening awareness of the group's actions towards decarbonisation, developing local action plans with the business' international teams and helping to define product strategy for low-carbon glass.
The position aims to help shape the business' strategic direction for decarbonisation by acting as a central bridge between the manufacturer's internal operational and research and development teams, and to external experts, customers and the broader building design community.
Kristian was previously Pilkington UK's head of sales and she brings 15 years' experience to the new role. "Our world-first proof of concept trials of hydrogen and biofuel form part of a broader effort in the industry to move towards its decarbonisation," said Kristian. "This represents an exciting beginning of a long road ahead.
"We now need to closely consult with customers to understand how we can effectively meet their sustainability challenges by supplying glass that enables them to create buildings with both high energy performance, and low embodied carbon. Achieving this will require continued optimisation of our operations as we collectively learn, internally and as an industry, how we can reduce the carbon intensity of the glass manufacturing process.
"I'm excited to take on this critically important challenge for the business as it strives to make change in the built environment."
David Cast, climate change director for the NSG Group, said: "We're proud of our business' early successes towards decarbonisation but we can't shy away from the operational and commercial challenge represented by decarbonising an energy intensive process like glassmaking.
"Kristian's deep experience and connections in the industry will enable the depth of collaboration needed to help us deliver carbon neutrality and for working with partners to develop the standardised approach to low-carbon glass that architects will ultimately require."
Pilkington UK has completed several trials of low-carbon biofuel and zero carbon hydrogen fuels to fire its glass furnace since 2021. For more information, visit pilkington.com.