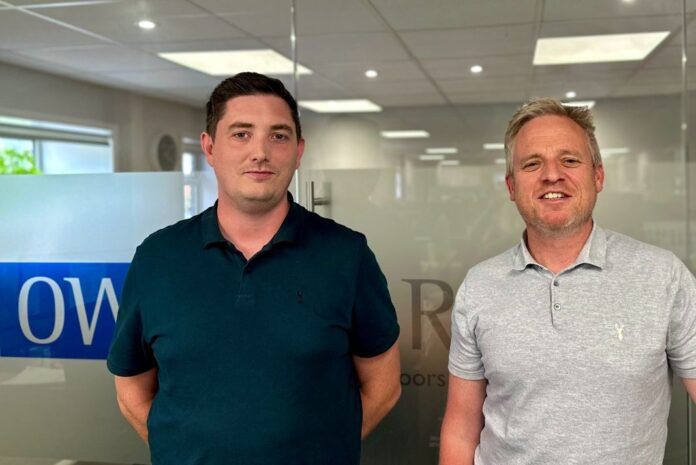 Two directors of OWS Fire Rated have passed a Level 3 qualification in Passive Fire Protection: Matthew Potter, managing director, and Daniel Stewart, pre-construction and design director.
The Institute of Fire Engineers (IFE)'s Level 3 Certificate in Passive Fire Protection is a qualification developed in conjunction with the Association for Specialist Fire Protection (ASFP). The content and structure of the qualification is designed to reflect best professional practice and aims to cover the key areas required by people working in the passive fire protection industry.
The OWS team manufactures fire-rated aluminium windows, doors and curtain walling. The business is part of the ASFP.
Earlier this month, two new people joined the OWS staff team (our report on this news is available here.) Andy Skinner was appointed to the senior estimator role and Kevin Hulin joined the firm, as specification sales manager.
Andy is a City-and-Guilds-qualified carpenter and joiner. He has worked as an installer, surveyor and contracts manager for Solaglass (Saint-Gobain). He has also worked as an estimator within the fire-resistant glazing industry.
With more than 30 years of experience in the window and fenestration industry, Andy is set to bring a wealth of knowledge to OWS that could strengthen the company's estimating function and support the team's growing customer base.
Kevin's appointment is set to bolster the technical sales team at OWS. Kevin has worked within the passive fire industry in a variety of roles, including as a director as well as in technical, sales and marketing roles that had an emphasis on fire-resistant glazing and doors.
For nearly seven years, Kevin chaired the Glass and Glazing Federation's Fire Resisting Glazing Group, which produced a document titled 'Best Practice Guide to FR Glazing'.