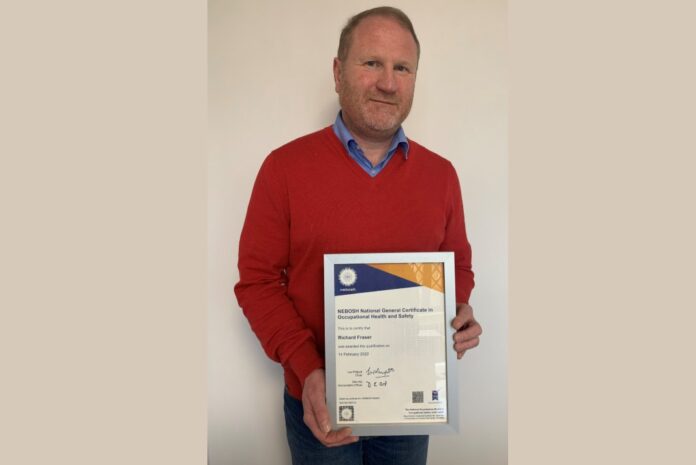 Rich Fraser, Window Ware's business development manager for aluminium and commercial, now has a key health and safety (H&S) qualification: the National Examination Board in Occupational Safety and Health (NEBOSH) General Certificate. The UK hardware provider already has an exemplary record for H&S, its representatives claim, and a rigorous approach to minimising H&S risk in the business. Now, through continued investment in H&S training and qualifications, it has taken its efforts to the next level.
NEBOSH qualifications are widely regarded as the gold standard for H&S professionals. Candidates must put in considerable time and effort to cover all of the knowledge needed to pass, with a recommended study time of around 125 hours, plus extra time spent on revision.
Even though Rich managed to complete the course in just 12 months, he admitted that it's been tough going: "Trying to fit my studies around a full-time job wasn't easy. I'd be at my desk by 6.30am most days to squeeze in a couple of hours of study before work, and hit the books again at the weekend. It helped that everyone at Window Ware has been very supportive."
Rich's experience with H&S in previous roles made him an ideal candidate to sit on the H&S committee when he joined Window Ware over three and a half years ago, say the business' representatives. As his involvement grew and evolved, Rich felt he needed formal H&S training, so he put himself forward for the NEBOSH course.
Sam Nuckey, Window Ware's managing director, explained: "As a company, we proactively invest in our staff, to ensure they have all the skills and knowledge they need to excel in their roles, and to keep the whole business operating at the highest level. We take health and safety very seriously.
"Our commitment to creating a positive H&S culture spans the entire organisation, from the senior managers to the team leaders and colleagues. It's up to all of us to look out for each other at work. Having a NEBOSH-certified expert in house is really going to help us maintain and encourage a safety-first, best practice approach in everything we do. Rich is a great asset to the business, and we are extremely proud of his achievement."
Window War, has been successfully serving the window and door industry with leading brand hardware, tools and consumables since 1987, helping to ensure fabricator production lines keep moving and trade counter shelves stay stocked. For more information, call 01234 242 724, email sales@windowware.co.uk or visit windowware.co.uk.