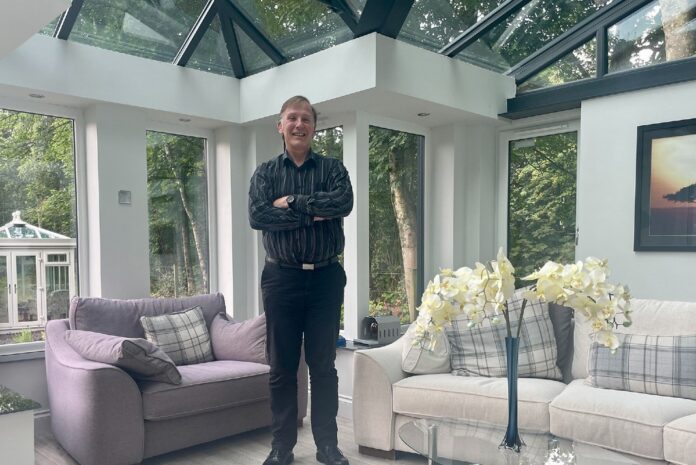 Steve Scott is celebrating 45 years of service at the Galashiels-based home improvement specialist, Mitchell Glass. Having started out as an apprentice fabricator in 1978, Steve was promoted to production manager and then his current position: technical manager and surveyor.
During his time at the business, Steve has carried out tasks including being the chief pie runner for the workers, interviewing the Scottish footballer John Collins for a job, and installing a conservatory for Sean Connery's son.
The 61-year-old, who has only recently retired from being a retained firefighter in the town, has no plans to leave the industry. He is looking forward to helping the company continue its growth across Edinburgh, the Lothians and the Scottish Borders.
"When I first started, Mitchells was more of a fancy goods shop located in the main town," said Steve. "Over the years, we increasingly moved into more glazing and home improvement products, and to our current site on the outskirts of the town.
"With thousands of installations under my belt, there's not many frames I haven't fitted."
Lewis Roden, the fourth-generation family owner of Mitchell Glass, added: "Steve continues to be a massive and important part of our business. There is literally no technical question or challenge he can't get to the bottom of.
"I can remember visiting the factory as a child. He was such a big presence on the shop floor. Some 20 years on, he is still a great person to have in the offices and dealing with customers. I just wish he would stay for another 45 years."
Mitchell Glass was the first Scottish retailer to join the Conservatory Outlet in 2011. The business continues to be one of the fastest-growing companies in the 30-strong network.
"We want to wish Steve a very happy 45-year celebration and can only thank him for the expertise and passion he has brought to all his dealings with our company," said Greg Kane, CEO of Conservatory Outlet.
"People really do make a business, and it often translates into the quality of service delivered to customers. I think we all wish we had more Steves in our companies." Read more about Mitchell Glass at the company's dedicated website.