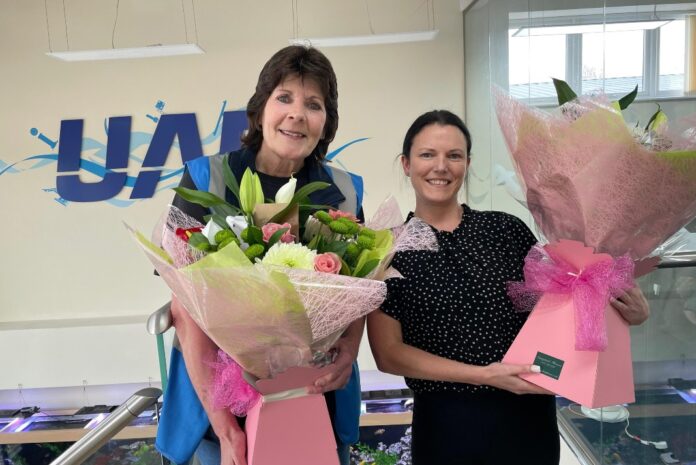 Quick-thinking colleagues stepped in to assist their maintenance worker, Dirk, after he collapsed with a cardiac arrest at work. The rescue took place at the headquarters of UAP, a specialist in locks and hardware based in Whitefield, Manchester.
The 74-year-old from Radcliffe had stayed a few minutes late at work – at the request of operations director, Wendy Rushton – when he collapsed. The UAP team sprung into action, calling an ambulance, putting Dirk into the recovery position and calling on first aiders, Julie and Lyndsey, to help, as Wendy deployed the company's emergency defibrillator.
Wendy explained: "I had familiarised myself with the defibrillator when it was first installed, but none of us have ever used it. Everything happened so quickly, that we just worked together to help Dirk. As soon as I connected the battery into the defibrillator unit, it gave me very clear instructions on what I needed to do."
Warehouse supervisor Julie did chest compressions, while sales administrator, Lyndsey, gave Dirk mouth-to-mouth resuscitation. The defibrillator gave the team clear instructions when to stand clear, so that Dirk's heart could be shocked, and informed them when his heart had restarted.
When the ambulance arrived 20 minutes after chief executive, David Jennings, first raised the alarm, the paramedics praised the UAP team for saving Dirk's life with their first aid skills and rapid response. Dirk is now recovering in North Manchester General Hospital. His wife Kay has been into UAP's offices to thank her husband's colleagues for saving his life.
Lyndsey said: "I trained as a nurse before joining UAP, and I am one of seven first aiders on site. But I never expected to have to use those skills to save someone's life in the office.
"Dirk had been scheduled to go home a few minutes earlier. If he'd left on time and had the cardiac arrest in the car, or at home, it's unlikely he would have pulled through. We are all relieved to know he's now doing well in hospital."
UAP installed the defibrillator at the company's offices a year ago, but had never used the device before. The company is now urging other businesses to made a defibrillator available, and to ensure first aid skills are up to date.
Wendy added: "Without the defibrillator and the swift actions of his colleagues, Dirk would not have made it, which is a very sobering thought for us all. We are very proud of the way the team responded in an emergency and wish Dirk a speedy recovery."