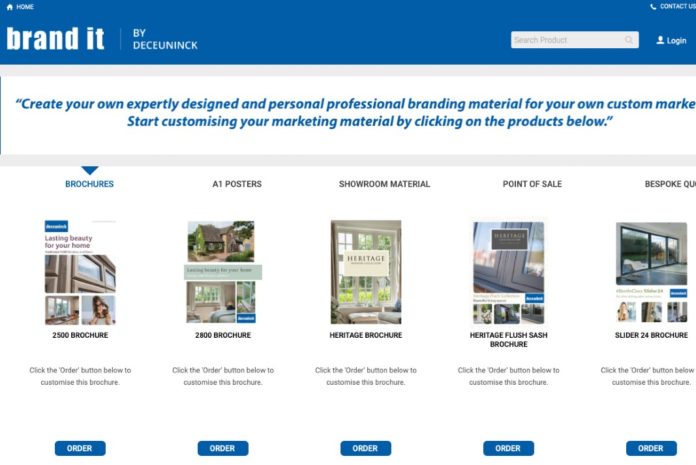 Deceuninck has launched Brand It, a dedicated online resource that allows its customers to create bespoke, professionally branded marketing materials. With the Brand It website, Deceuninck's customers can access templates for brochures, pull up banners and A1 posters, plus a range of showroom and point-of-sale marketing material, including flags, business cards and van graphics.
Users can either upload their own photography or take advantage of Deceuninck's high quality library of product and installation images, which can then be personalised with individual company logos and contact information. Once designs have been finalised, customers can pay directly through the Brand It website. For more complex orders, for example if businesses require custom showroom display graphics, colour boards or window display stands, Brand It also presents the option to contact Deceuninck's supplier for an individual quote.
Carol Hearn, Deceuninck's marketing manager, said: "In a competitive marketplace, it's more important than ever for customers to have access to professionally produced, good looking brochures and impactful marketing material. Brand It is such a powerful tool because it gives companies full control over the design and delivery of that material.
"For instance, if you want to create a brochure or A1 poster for your company, it's simply a case of opening a template, then selecting and dropping in your images and company branding. It's as easy as that. There is also no requirement to liaise with a third party for design, proofs or payment, which can create delays and increase the chance of errors being made. In developing Brand It, we've ensured that the whole process of creating marketing materials, from layout to delivery, is as streamlined, efficient and intuitive as possible."
To access Brand It, or for more information, call 01249 816 969, email deceuninck.ltd@deceuninck.com or visit www.deceuninck.co.uk.