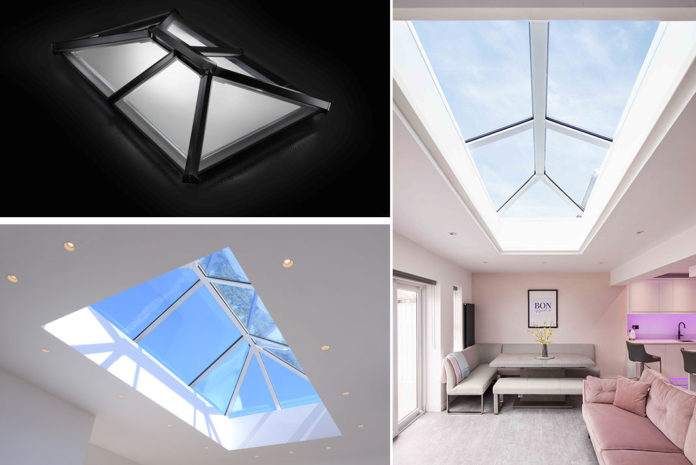 Eurocell has launched the Skypod Plus. The three designs in the new roof lantern range offer a choice of grey, white and black outer frames – the last of which was released in 2019 as the Eurocell Skypod Black Edition.
All feature the same aluminium ridge, rafters and top caps that are designed to provide 'exceptional' weather performance, rigidity and UV stability to reduce colour fade over time.
For fabricators and installers, Eurocell claims that Skypod Plus represents another option to take to style conscious homeowners looking for a way to bring natural light into flat roof extensions. It also provides a way to meet growing demand in commercial settings such as sports clubs, restaurants and schools, where grey and black frames are reported to be enjoying 'a huge surge' in popularity for the way they blend in with single ply roof coverings
Skypod Plus is available in square, two-bar and three-bar configurations, all with a 20 degree pitch, and five self-cleaning glass colour options. Customers can choose between sourcing in bar length or kit forms. And as an additional feature, grey and black Skypods can be ordered with a choice of a smooth matt black or a smooth gloss grey internal and external finish to create a truly architectural touch.
Eurocell says that Skypod's advanced features, such as thermally broken ridge and ring beams to prevent condensation, 'practically eliminate' call backs, making each installation 'more profitable and hassle-free'. Skypod Plus carries the standard 10-year guarantee to cover defects in materials or manufacture offered on all Eurocell products.