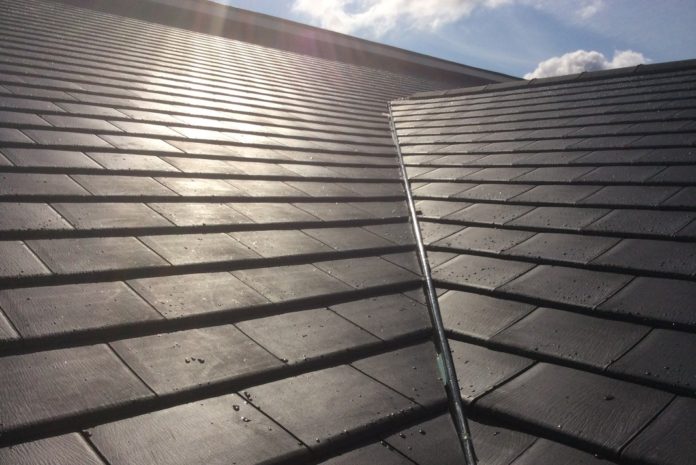 A recycled polymer tile called Envirotile is now available at Eurocell for specification alongside the Equinox solid roof system, helping to deliver a sustainable roofing solution for living spaces such as conservatories or garages. The tile offers great aesthetics, installation benefits and forms a fully interlocked covering for roof pitches as low as 12.5°.
Envirotile provides a solid tiled roof solution with reduced environmental impact. Manufactured in the UK, using 75% recycled content, Envirotile is a sustainable choice that provides a lightweight, easy-to-install interlocking roof tile system.
The tile is available in two finishes, a standard and a textured slate effect, both of which are available in four colours, providing an eye-catching finish for properties to complement the surrounding roof spaces. Simple to fix, with 'exceptional' performance characteristics, Envirotile locks into adjacent tiles to form a fully integrated roof covering.
Installation ease
With just 20% of the weight of a standard concrete roof tile, Envirotile drastically reduces carrying load weights and its unique polymer material means there's no dust during cutting. Envirotile also assists with improved foot grip while traversing covered tiled roof spaces.
A powerful combination
Envirotile can now also be specified in conjunction with Equinox, Eurocell's high-quality warm tiled roof solution. Equinox reportedly delivers all-year-round comfort and usability for property spaces such as conservatories or garages, helping to transform them into comfortable living areas to cope with the UK's varied seasons.
Equinox provides equitable temperature control of conservatory spaces, ensuring comfort against the heat of the summer and providing guaranteed cosiness in the depths of winter. In addition, a solid conservatory roof provides improved insulation benefits, delivering up to 15 times better insulation performance when compared to alternative polycarbonate or glass conservatory roofs. As energy costs continue to rise, Equinox can help homeowners continue to make the most of additional spaces around the home without the worry of higher energy bills.
Envirotile is available through all Eurocell Building Product branches. Andrew Dixon, Eurocell's sales and commercial director, said: "The powerful combination of the Equinox solid roof system specified alongside the Envirotile roof tile, means installers can benefit from an easy-to-fit system and homeowners gain from all-year round comfort, guaranteed performance, improved insulation, and a greener roofing solution.
"Envirotile is the latest addition to Eurocell's range, reinforcing the company's long-standing sustainability commitment. We continue to innovate to create a range of environmentally-friendly products that is satisfying increased consumer demand for green solutions without compromising performance or aesthetics." For more information about Envirotile, visit eurocell.co.uk.