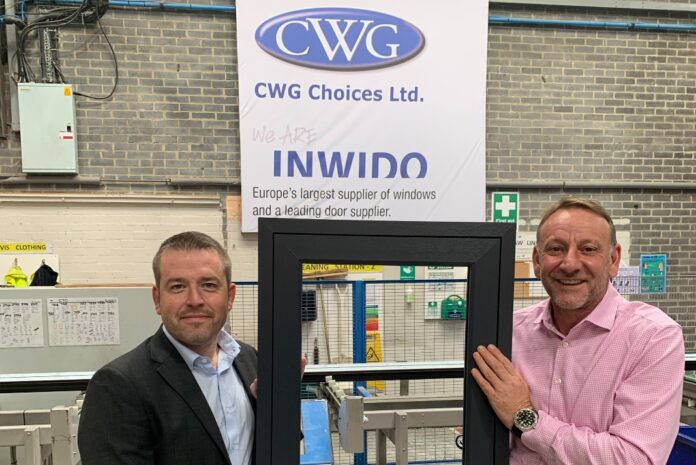 Trade window and door manufacturer CWG Choices, West Midlands, has been an active launch partner for Kömmerling's new, super-energy-efficient flush sash, that boasts six chambers and carries unique design features. With development work carried out at their Aldridge facility, CWG has done much to help develop the manufacturing processes required to fabricate the new Kömmerling flush sash, with consistent high product quality and in volume. It's a new section, part of the Kömmerling 70 platform, that can accommodate glazing options from 28 to 40mm and importantly, can achieve a U-value of 1.2 (W/m²K) as standard, and in doing so achieve the expected revised building regulations for the new housing and replacements sectors.
Chris Powell, managing director of CWG Choices, said: "This new product launch from Kömmerling is a step development in the flush sash market, given all the technological features. We've worked closely with them to help bring it to market.
"We have no doubt that this will become a very popular product option under our Choices brand, and quickly, given its impressive qualities. It will be available on a lead time of as little as two weeks, from early in the New Year."
Robert Thiroff, managing director of Profine UK, added: "It's been pleasing to be able to work with CWG Choices as our launch partner for the flush sash, given our collective long history as business partners together. It's a next-generation product that will help our business partners thrive in both the residential and new-build sectors, and fully reflects our premium position as a technically better systems house. It will of course be shown at Fensterbau and the Fit Show next year, along with other product and service innovations."
For information about CWG and the new Kömmerling flush sash, visit cwgchoices.com. For further information about Profine, visit profine-uk.com, email enquiries@profine-uk.com or call 01623 579 200. There's also a dedicated site for Kömmerling at kommerling.co.uk. To follow the businesses on social media platforms, including Twitter, see @profineuk and @kommerling_uk.