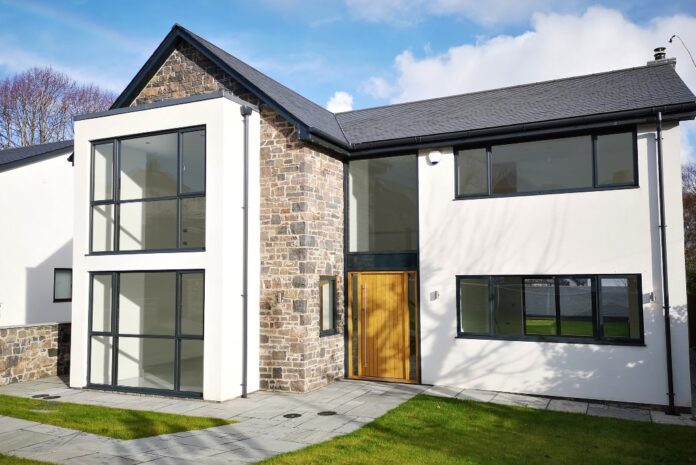 Developed specifically to meet the new Part L of UK building regulations, for windows in new and existing residential builds, Guardian Glass has introduced Guardian ClimaGuard Neutral 1.0: a thermal insulating coated glass for double-glazed windows. ClimaGuard Neutral 1.0 has a Ug-value of 1.0 W/m²K, and offers improved aesthetics with a more neutral colour and a lower reflection compared to other 1.0 U-value glass products for residential windows.
ClimaGuard Neutral 1.0 is a single product solution which can be used in its annealed form or can be heat treated for use in safety applications. This means that glass processors do not need to stock two different glass products (a heat-treatable version and an annealed version) to meet demand from window makers.
Changes to the UK building regulations were published in December 2021, and will come into force on 15 June 2022. One of the five new approved documents, Part L ('Conservation of Fuel and Power'), introduces new minimum efficiency standards for both new and replacement thermal elements, windows and doors.
New-build schemes will be assessed under the new Standard Assessment Procedure (SAP) 10 method. From June this year, it will be mandatory for all new windows, including roof windows and glazed doors, to achieve an improved maximum U-value of 1.6 W/m²K, compared to 2.0 W/m²K previously. Taking into account the complete window system (frame, sealant, spacer bar, etc), this means that the notional U-value target for windows in new dwellings is now 1.2 W/m²K. Window makers and glass processors will now require a glass product with a Ug-value of 1.0 W/m2K to meet these new regulations.
Gary Frakes, Guardian Glass' regional sales manager for UK and Ireland, said: "In order to achieve a Ug-value of 1.0, Guardian Glass has taken a very different approach, believing that the glass should help bring as much natural daylight as possible into people's homes, with clearer, less reflective views. Thanks to Guardian's knowledge in coated glass innovation, ClimaGuard Neutral 1.0 is more colour-neutral, with a lower reflection".
ClimaGuard Neutral 1.0 achieves 74% light transmission for a double IGU 4-16-4 panel (coating on surface #3, 90% argon fill), 14% light reflection and a solar factor of 52%. The product is available on Guardian ExtraClear float glass as standard, on Guardian ExtraClear laminated glass and on Guardian UltraClear low-iron float glass, offering better colour neutrality and a higher transparency for even more natural views of the outside. For more information about Guardian ClimaGuard Neutral 1.0, visit guardianglass.com.