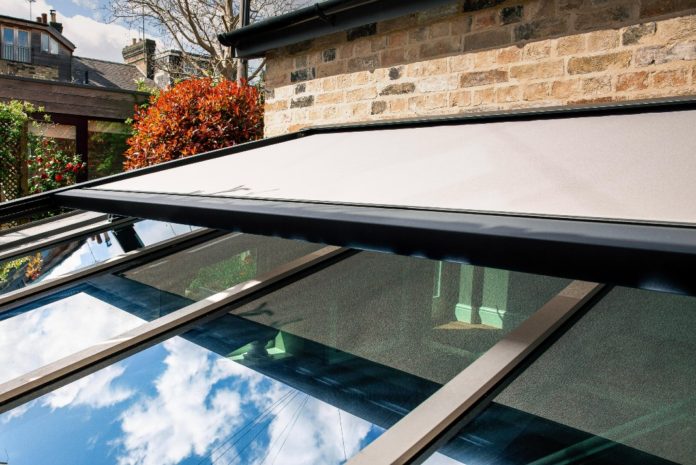 While the warm weather and multiple heatwaves throughout 2021 have made lockdown more enjoyable, many homes have experienced overheating. Standard UK residential properties are not designed to cope with excessive heat – something which one customer found after installing a skylight – until she discovered Caribbean Blinds.
The problem
In March, a customer who had recently installed a skylight to the dining room in the basement of her Cambridge mews contacted Caribbean Blinds regarding an external shading solution. Although the skylight created a feeling of more space and openness by allowing light to flood into the room, it also resulted in excessive light at all times, glare and heat, as well as a lack of privacy from neighbouring buildings.
The solution
Following an initial enquiry, Caribbean Blinds carried out a detailed site survey and consultation. Just a few days later, the Cayman external blind was recommended and selected. The team showcased samples of the system in situ over the skylight, allowing the client to see that the blind hardware would simply be an extension of the skylight frame, and not bulky or obtrusive in any way.
The product
The Cayman blind, which mounts to the outside on top of the skylight, provides a first line of defence to both solar heat and light. Caribbean Blinds' exclusive 'Twilight' pearl fabric was selected, in a mid (Manhattan) grey. The unique perforated material diffuses incoming light to prevent glare, while maintaining a view through from inside to out. The product also offers a heat block of 90%.
The hardware was colour-matched to the skylight frame (in anthracite grey) and operation made effortless via remote control. Taking just half a day to install, the Caribbean Blinds team successfully met the client's brief and provided a naturally cooled, glare-free basement dining space to be enjoyed all year round, no matter the weather.
The Cayman Blind
Designed to cover glazing of all sizes, inclinations and slopes, from skylights and conservatory roofs to glass verandas and winter gardens – as well as to create a roof on top of existing pergolas – Caribbean Blinds' high-performance external blinds are the most effective way to keep buildings cool, while diffusing bright light to eliminate glare, the business claims.
About Caribbean Blinds
For over 30 years, Caribbean Blinds has been exclusively designing, manufacturing and supplying external shading systems that transform the use, functionality and enjoyment of all types of spaces. For more information, visit www.cbsolarshading.co.uk.