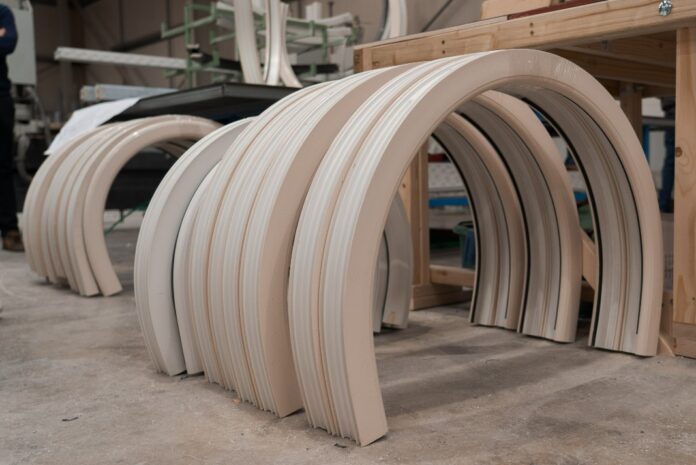 Why buy arched frames from a competitor, when you could have a loyal partner in Premier Arches? When it comes to manufacturing standard square window and door frames, most PVC fabricators have no hassle at all following tried-and-tested processes that have been their bread and butter for decades. But when it comes to arched frames, you're looking at a different ball game altogether.
Arched frames are a time-consuming and complex manufacturing technique that many fabricators simply aren't equipped for, meaning many often choose to buy in their arched frames rather than manufacturing them themselves.
There are only a handful of arched frame manufacturers out there, and, because of increased consolidation throughout the market in recent years, some of these manufacturers are part of groups that also sell other products – like standard square frames. Unfortunately, this means that when looking to buy in arched frames, fabricators can end up sourcing these specialised products from companies that are actually competing with them.
Of course, ordinarily, no business owner would choose to purposefully line the pockets of one of their competitors. But for some fabricators, it's their only way of accessing the specialised arched frames they need to keep up with customer demand.
An ethical approach to business
One company that can help overcome this problem is arched and angled frame manufacturer Premier Arches. The St Helens-based company specialises solely in arched and angled frames, meaning their fabricator customers are sourcing their products from a truly independent partner.
Sean Greenall, Premier Arches' managing director, said: "In recent years, we've seen a shift in the market where many small, independently run businesses with one product or service focus have been purchased and consolidated into bigger businesses. Because of this shift, many of these businesses are now part of groups that offer multiple products or services, which adds another layer of complexity when trying to trade fairly and honestly with their customers.
"Unlike other arched frame manufacturers that belong to a group that also happens to make other products, at Premier Arches, we focus on just one type of product – bespoke angled and arched frames that our customers don't want to make themselves – meaning we aren't competing for our customers' core business. We're not part of a wider group offering other products that our customers also manufacture or sell themselves. We will never compete with our customers. We are proud to enjoy loyalty from them in return, and we believe this is the correct and most ethical approach to business."
High-quality product offering
Aside from the obvious benefit of buying arched and angled frames from an independent fabricator, Premier Arches' customers also benefit from market-leading products. The company manufactures and supplies arched, angled, gable, circular and entirely bespoke windows and doors in a range of seven stocked systems, including Residence 9. The business offers a full service to fabricators, trade counters, installers and local builders.
The company has also seen more customers choosing to order fully fabricated frames, including sashes, accessories, glass and composite door slabs. Sean continued: "Specialising in one particular offering has really enabled us to refine and improve our products to a level that our competitors simply can't match.
"At Premier Arches, we operate on three core values – exceptional manufacturing quality, a 'make life easier' offering and clear and honest customer service – and customer loyalty plays a huge part in that. I would advise any fabricator looking to buy arched or angled frames to not source them from a competitor. Not only will they be potentially stealing your trade customers but they simply won't be able to match the quality and service of an independent – and loyal – specialist like Premier Arches." For more information, email info@premierarches.co.uk.