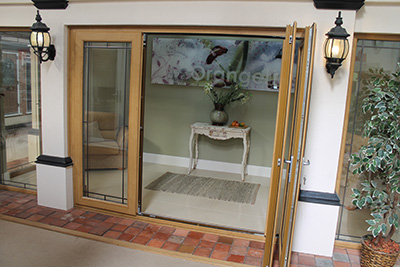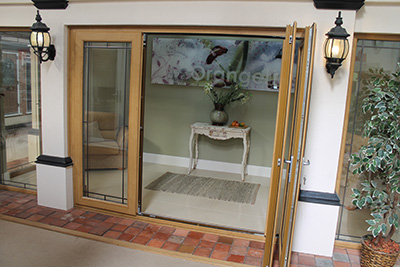 Flair Plastic Products has become one of the first Kömmerling customers to install the 'revolutionary' sliding, swinging and folding PremiFold window and door system into a showroom, at its Sutton Coldfield site.
Eager to capitalise on the sales opportunities for PremiFold, Flair has become one of the first manufacturers of the PAS 24 accredited door system, which it believes is 'a far better and more adaptive solution than a typical PVC-U bi-folding door'. The door has been installed into an existing orangery feature at the company's showroom, alongside complementary full height fixed light frames in Irish Oak, with leaded lights.
Developed in association with VBH, the PremiFold system has no visible hinges. It harnesses existing Kömmerling C70 and O70 Gold profiles and requires the stockholding of just the hardware and track. While initial interest has been focused on the PAS 24 door, the opportunities for sales of windows with the same opening mechanism are also said to look 'strong'.
Adrian Keegan, sales manager at Flair Plastic Products, enthused: "We have a fantastic showroom for trade partners and the general public, which boasts many of the latest product innovations from Kömmerling. We believe that the PremiFold window and door system is not only a clever innovation, but one in which will drive more sales for us."
Kevin Warner, head of sales and marketing at Kömmerling, concluded: "PremiFold is our latest product innovation and supports our philosophy of developing market leading systems. Our PremiDoor and PremiLine Pro products are also standout developments that further support our strong brand proposition."
For further information, contact Flair on 0121 624 5001 or e- mail sales@flairwindows.com