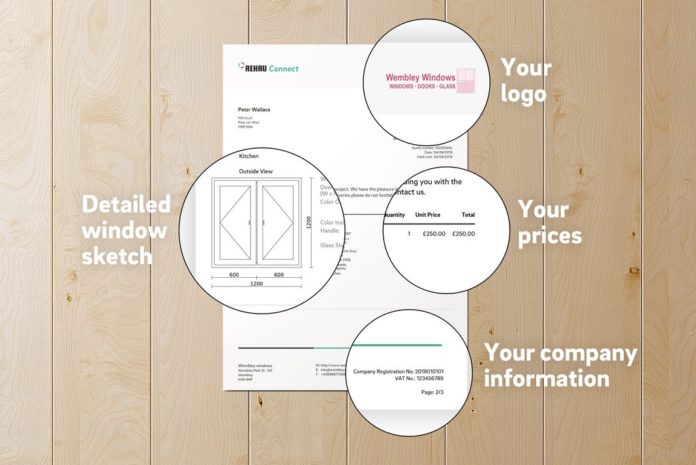 Window profile supplier, Rehau, has developed a project platform called Rehau Connect, to streamline the window retrofit process. The supplier argues that Connect anticipates the recent shift to increased take up of digital tools, as 90% of tradespeople introduced new ways of communicating in 2020 (according to research published by Yell) and demand for digital tools that ease communication and simplify quoting processes has grown.
Within the Rehau connect platform, tradespeople are able to collaborate and create a personalised quote with company logos. The 3D visualiser enables users to turn and rotate virtual windows and doors in all directions, providing a 360⁰ impression and realistic visuals. A configured window sketch with individual prices provides complete transparency to buyers.
Stephen Beresford, Rehau Windows' head of marketing and communications, said: "With the development of Rehau Connect, demand and supply come together faster. The digital platform helps to organise a window project by enabling a central place for plans, visuals and quotes. We've taken a digital-first approach when creating this resource for installers and fabricators, to encourage more efficient processes.
"Consumers are researching more now than ever. As a result, businesses are being inundated with requests. This means a more efficient approach to formal processes, such as developing quotes, is required. Connect can save time by enabling faster and simpler communication between all parties, which could help to win projects. It's an added bonus that it eliminates the need for a complex and endless trail of physical documentation, which also echoes Rehau's wider sustainability strategy."
Rehau Connect links fabricators with installers that have been approved through the company's Authorised Partner Scheme. Stephen added: "Part of providing fast and high-quality services to end users comes from being connected to reliable, specialist and accredited people. By choosing to do business with installers who are reliable, fabricators have reassurance that they can produce high-quality window products with no compromise on installation." For more information about Rehau Connect, visit www.rehau.com/uk-en/rehau-connect.