Aluminium systems specialist, Sapa Building System, has introduced a new slimmer profile to its already successful Crown sliding folding door, offering improved contemporary aesthetics and greater choice for customers.
An addition to the existing Crown range of doors, the slimmer 59mm profile depth has been designed with a 'contemporary look' in mind. Allowing more light to flood living spaces while maximising uninterrupted views, the new door is also said to offer greater thermal performance.
S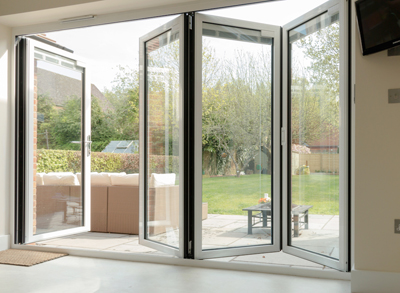 atisfying current trends with a sleeker square profile as opposed to chamfered, the door's aesthetics are improved further still with the inclusion of the familiar innovative continuous hinge. Originally the first of its kind, the hinge offers elegant sight lines for a seamless finish, adding to the minimalist look achieved by the newly slimmed-down profile. The continuous hinge allows the door to fold and slide easily with minimal effort.
With the Sliding Folding Door also providing a deeper cavity, the panel depth has increased to take up to 40mm glazing allowing the incorporation of a wider range of glazing thickness as well as improved options with accessories, such as internal blinds.
The new Slimline Crown profile can be installed up to 2.5m high while the original Crown sliding door supports installations up to 3m where larger sizes are required.
Available with a low threshold the doors can be tailored to suit almost any space, size, or arrangement. The new door comes in the standard range of high performance, non-fading colours as well as over 300 colours in the premium range, different colours can be used for both inside and out making the design possibilities endless.
James Wilson, market manager at Sapa Building System, commented on the latest Crown door introduction, saying: "Aesthetics have been our priority for this latest addition to the Crown sliding folding door range. The clean lines and smooth finishes that the continuous hinge offers, from a design point of view, have been popular with architects, and we hope the updated slim profiles will help to achieve even better aesthetic results for customers."