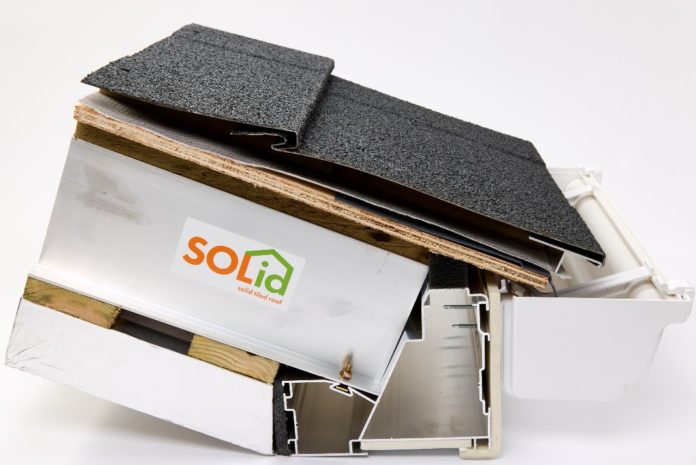 Dodworth-based SOL Conservatory Roofs, South Yorkshire, is proud to announce the launch of its brand-new solid roof system, Solid. Thermally efficient and fitter-friendly, it's 'the perfect choice for installers looking to maximise their offering to homeowners and be part of this ever-growing roof trend', the business claims.
Designed to work with new-build conservatories and roof replacement projects alike, Solid features a lightweight aluminium ring beam that 'seamlessly' fits over window frames, over-soffit ventilation for increased air flow, and 150mm insulation for thermal efficiency. Fitter-friendly features include pre-positioned nuts and pre-installed laths, meaning less time on site, with less disruption and inconvenience for customers.
Homeowners can have 'the ultimate choice' when choosing the final look of their brand-new solid roof conservatory or conservatory roof replacement, with a variety of tile colours available in both slate and shingle, plus a soffit assembly, allowing for external lighting. Also a brand-new addition to the SOL product range is Solsirius, which features the same innovative solid roof technology as Solid, but with full-height glazing panels, to give consumers the best of both worlds.
Steve Taylor, SOL Conservatory Roofs' group managing director, said: "With the incredible growth that we have seen over the last few years, along with the construction of our Dodworth-based roof factory, it made complete sense that the next step would be the development of our own roof system. After navigating successfully through a very unpredictable 12 months, we have come out the other side stronger than ever. Now is the perfect time to bring our fantastic new product to market."
Your 'perfect trade partner'
With a £2.5m, state-of-the-art factory that is solely dedicated to roof production, SOL Conservatory Roof claims to combine slick manufacturing with a solid supply chain, so that even the most complex of projects can be turned around in industry-leading timescales. Providing a one-stop shop, all window and doors orders are fulfilled from a second manufacturing site – delivered on a schedule to suit installers, direct to site.
For roof projects, insulated plasterboards and internal finishing materials are also included on deliveries, for a guaranteed smooth, trouble-free installation, every time. Find out more online, at www.solroofs.co.uk, or call 01226 890 890.