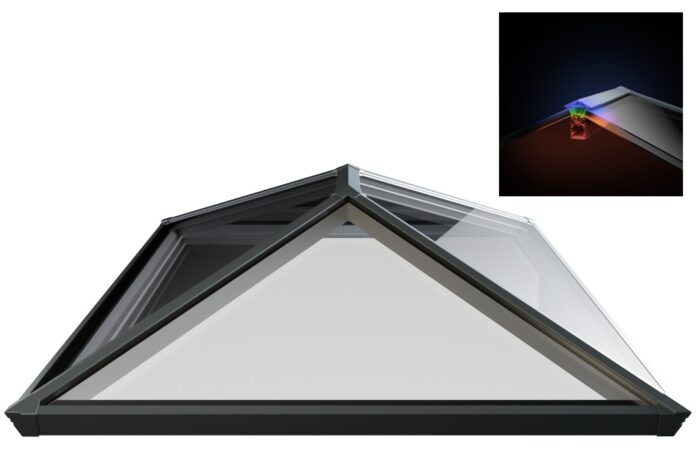 Tiled roof specialists SupaLite have launched a stylish lantern system that deters would-be intruders, according to the firm's representatives. The S1 lantern system is the latest in SupaLite's range and can be fitted to both flat and pitched roofs.
Many traditional lantern systems have design flaws that can be exploited by burglars but the S1 system eliminates these flaws via clever design considerations that internalise various security fittings, we have been told. The S1 lantern can be ordered glazed or unglazed and is available in three standard powder-coated matt colours: pure white, anthracite grey and jet black. The product also includes an integral channel around its perimeter which can be used to house LED lighting.
The addition of the S1 lantern follows on from SupaLite's launch of the ILite flat roof orangery system, which was launched earlier this year. The ILite roof can accommodate the S1 system and is also one of the strongest and most thermally efficient flat roof orangery systems around, they say. The product is suitable for new-build and retrofit markets.
Wes Clarkson, Supalite's sales director, said: "The introduction of the S1 lantern perfectly complements both our flat and pitched tiled roof range. Homeowners will be delighted with the way the lantern floods the room below with plenty of light.
"The S1 is stylish, sustainable and secure. Because we have a fast turnaround time of between 10 and 14 days, we can supply the system to the tightest of deadlines.
"It's a terrific addition to our range and already the S1 is generating a lot of interest with installers. In an uncertain housing market homeowners are increasingly choosing to improve instead of move, so a roof lantern like the S1 is an excellent choice for a new or existing conservatory."
SupaLite offers a range of replacement roof solutions for both conservatories and orangeries, all of which have achieved building regulations approval. For more information call SupaLite on 01772 828 060 or visit supaliteroof.co.uk.