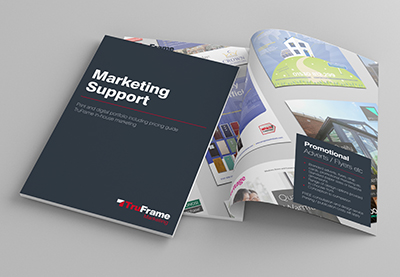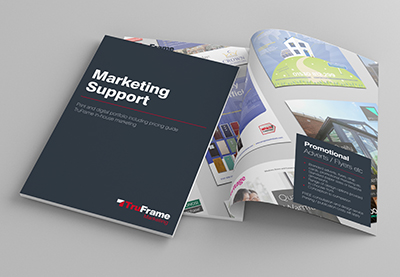 TruFrame claims that more and more companies are not only switching to the fabricator for its range of hand finished PVC-U window and door frames, but also for the comprehensive support from its dedicated in-house marketing team, which has now been in place for 18 months.
TruFrame Marketing has been set up to simulate a small in-house 'agency' led by marketing manager Simon Box and fully supported by two full-time professional graphic designers/marketers. Without typical agency fees, TruFrame says its customers can benefit from a new corporate identity, showroom POS support, bespoke managed direct mail campaigns, email shots, bespoke brochures, installer packs, vehicle livery and general B2C marketing.
From bespoke product brochures, including the latest composite door and fully mechanically jointed Refine, to 'working in your area' drop cards, door hangers, magazine advertising, targeted flyers and even exhibition stands, the team at TruFrame says it has already carried out a wide range of projects, supporting new customers to grow their own businesses. TruFrame claims that established companies have also seen an injection of leads from TruFrame Marketing initiatives.
A number of companies are also said to have subscribed to TruFrame's Double Glazing Network, a successful online lead generation tool which the company says is 'capable and proven in delivering considerable returns for scheme members'.
Simon Box, marketing manager commented: "TruFrame marketing operates as an in house 'agency', yet without any associated costs for our customers. This is something not replicated within this industry that we know of. Sure there are similar offerings out there, but in the main there are still steep financial costs associated with 'marketing support' from competitors once you dig a little deeper.
"We're a true support function for our customers and their impressive returns speak for themselves."
See the 'Complete Package' video on TruFrame's YouTube channel to find out why so many companies are changing to TruFrame.