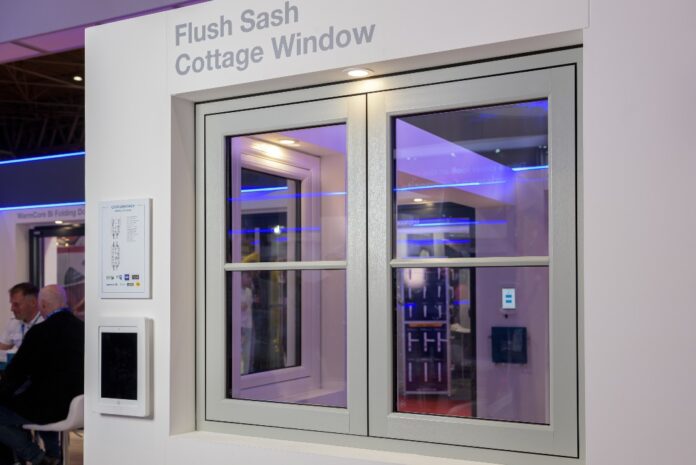 Essex-based U70 is the latest fabricator to introduce Kömmerling's 'next-generation' flush sash window, which can achieve a U-value of 1.2W/(m²K) with a standard double-glazed unit. There are 20 different colour combinations from stock, including smooth grey both sides on a grey base. A further 58 options are available on a short lead time.
The sash profile itself benefits from a six-chamber design with a seventh pseudo chamber. It also incorporates additional material for the latest welding technologies including Mechweld, which has been adopted by U70 as an upgrade option.
Kömmerling's flush sash was shown to great acclaim at this year's Fit Show, representatives have reported. The show also saw the launch of its new concealed mullion, which was used for a traditional cottage (French) window. U70 is set to offer this additional style of window, and any Kömmerling flush sash window, in just three weeks from order confirmation, with delivery right across the south east.
Martin Killick, U70's director, said: "The Kömmerling flush sash is the best 70mm product in the market by some way. The performance, looks and ease of manufacturing make it a must-have product for us and our local installer partners. We encourage anyone in our area to have a look at this new window."
Karl Williamson, Kömmerling's area manager, added: "U70 is a respected business in the south east. Their big commitment to us shows complete confidence in us as a global pioneer of technically better PVC-U window and door systems. The flush sash has gained significant interest over the last few months and we're expecting other trusted manufacturers to make the same commitment too."
For information about U70, visit u70.co.uk, email info@u70.co.uk or call 01376 511 360. For further information about Kömmerling, visit kommerling.co.uk, email enquiries@profine-uk.com or call 01623 579 200. You can also follow the brands on social media platforms, including Twitter (@profineuk and @kommerling_uk).