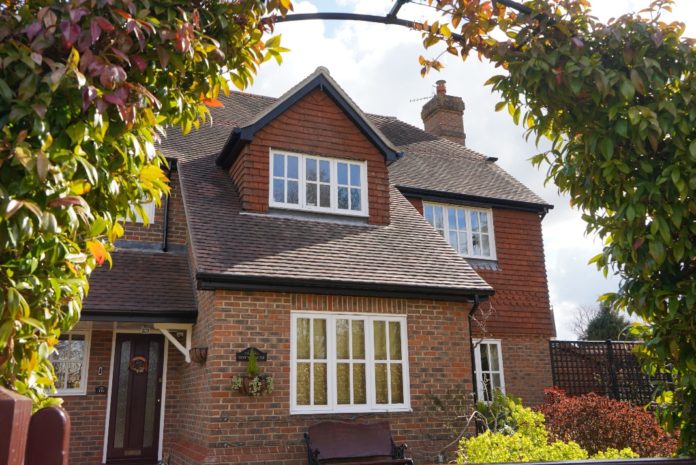 Freefoam Building Products has produced a video showcasing the work of Pilkington Plastics, in Horsham, West Sussex. Pilkington specialises in the supply and fitting of fascia, soffit, cladding, windows and doors.
Installation is a busy and growing part of the business, and as such, the new video features a recent project where black ash fascia and black guttering was installed at a large, four-bedroom home. The original white wood roofline had been on the property since it was first built around 20 years ago and needed replacing. The homeowner wanted a finish that complemented the property's design and style.
Watch the video in full, below.

Pilkington Plastics is a relatively recent Freefoam customer that started trading in 2017. The business was set up by long-time friends, Paul Le Grange and James Etherington. The team's dedication and hard work, alongside Freefoam's support, enabled the company to develop into an established and well respected local business.
James said: "We offer clients a full roof and roofline service, replacing tiles as well as fascia, soffits and gutters. In my experience, Freefoam is the best roofline range on the market. They offer a wide range of colours and finishes, and they all come with strong guarantees – 50 years on white products and up to 10 years on colours.
"We're also Freefoam Registered Installers, which again helps us grow our business. We receive free leads from Freefoam on a regular basis and plenty of marketing materials which help us to promote the products. This homeowner is very pleased with the installation and we're now pricing up a relative's property in the same development!"
Prior to starting the business, Paul had been involved with selling PVC-U for more than 20 years. During that time, he always worked with Freefoam. James had also been fitting Freefoam products for many years. Their joint experience gave them the skills needed to run their own business.
Paul explained: "I think people choose Pilkington Plastics because of our knowledge of products. Having a good understanding of our products and services helps to improve the confidence of our customers."
Pilkington Plastics has changed and developed a lot in the last four years. Though it took two years to get established, the company claims that it is now continuing to go from strength to strength. Paul added: "I do feel that Freefoam want to help my business to grow and find the support we get from Kim, our area sales manager, really useful. We like the products and have built up a strong partnership, so we don't see why there wouldn't be a positive future for Pilkington Plastics and Freefoam."