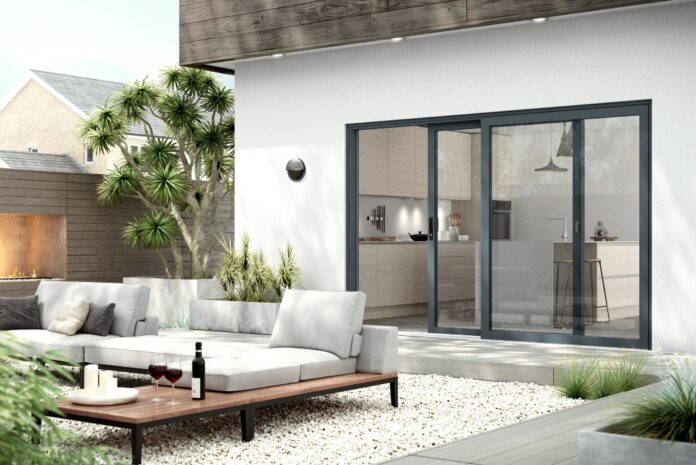 Given the new building regulations and a drive for better energy efficiency in patio doors, the Warmcore solution offers double and triple glazing options within a system that also boasts premium performance features. With a U-value of 1.4 W/(m²K) double glazed and 1.0 W/(m²K) triple glazed, Warmcore is a product platform for the domestic and commercial sectors.
Available in two-, three- and four-pane variants, it's a system with complete design flexibility. There are options for both single colour or dual-colour, and a thermally broken low threshold is also available.
Bespoke hardware features throughout the Warmcore patio door, with self-levelling rollers running on a precision engineered track to give long-term, ultrasmooth and reliable performance, its creators say. The wheels have been tested to 50,000 cycles.
The hardware features a custom-designed 'lift-to-lock' handle which is unique to the Warmcore patio door. This handle operates bi-directional locks located at the top and bottom of the door, and feature 'claws' that help make Warmcore patios incredibly secure at the interlock, which is typically a security weak point in standard PVC-U patio doors. The Warmcore patio door carries PAS24, an important standard under the forthcoming revisions to Part Q of the building regulations.
The Warmcore patio door also incorporates soft close technology, also known as a safety brake, as an optional upgrade. This helps prevent trapped fingers and unintentional slamming, and can be particularly useful when children are around. Carefully engineered, these built-in safety brakes guarantee soft, dampened operation, helping prevent misuse.
Phil Brown, Kömmerling's research and development manager, said: "The Warmcore patio door is a wonderful piece of product engineering and is available as a finished product and also as part of an integrated bar length system including casement, flush and tilt and turn windows, along with an impressive bi-folding door. With consumers looking towards better performing products and those rich in design features, there's never been a better time in which to look at Warmcore."
For further information, visit profine-uk.com, email enquiries@profine-uk.com or call 01623 579 200. You can also follow the brand on social media platforms including Twitter (@profineuk).