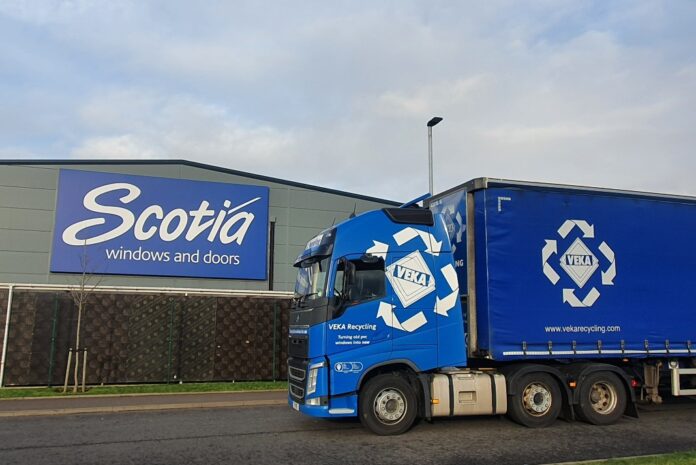 When Gavin Smith took the reins as managing director of Ayrshire-based Scotia Windows and Doors in 2021, one of the earliest decisions he took was to revise the company's arrangements for dealing with waste PVC-U, including virgin offcuts from the company's frame fabrication facility. He also increased the volumes of post-consumer frames that Scotia consolidated for its trade customers.
With recycling previously managed by a local agent but with inconsistent service levels and, crucially, no discernible audit trail for the material, Gavin decided to switch to Veka Recycling, one of the UK's only companies able to collect and fully reprocess new PVC-U profile offcuts and old frames, in-house. From May 2021, Veka Recycling has been supplying at least one articulated vehicle weekly to collect the material, which is sorted into special bins provided by Veka Recycling. Additionally, to streamline all of Scotia's profile recycling needs, Veka Recycling now also removes scrap aluminium for reprocessing.
"When I reviewed our arrangements last year for disposing of our PVC-U offcuts and the old frames that we handled for our installer customers, I was unhappy about many aspects of the arrangements, not least that we had no real idea where the material ended up," said Gavin. "We also moved to a new, larger facility at the end of 2021, and the throughput and management of material had to be reliable in anticipation of the sort of volumes that we are now producing," explained Gavin.
"When Veka Recycling was introduced to me, I was impressed that the company would collect all of our material and that it processed everything in its own advanced recycling plant, according to an audited trail. We were further impressed to learn that our material would be turned into new products, and even new window profiles, within days of leaving our yard.
"All of that was important to us as a company, and the commitment that we make to our customers, who include some of the country's biggest housebuilders, that every aspect of Scotia Windows and Doors is run to the highest, certifiable standards," added Gavin. "It is fair to say that the Veka Recycling service has now inspired us to embark upon a programme of measures that will reduce our carbon footprint in many other ways, both to satisfy our own commitment to the environment, and also as more of our customers, and their customers, demand it."
This is especially true of Scotia Architectural Systems, a division of the company that operates from showrooms in Alva, Clackmannanshire, and which designs and installs bespoke windows and doors for a variety of high-end building projects, including one featured on TV's Grand Designs. "We have found that customers of this business are especially interested in the environmental impact of the products they choose for their properties," said Gavin. "Using the example that we have set through our partnership with Veka Recycling, as we enter our 40th year in business, we will now review all of our operations with a goal of reducing the carbon footprint of Scotia Windows and Doors, in everything that we do."