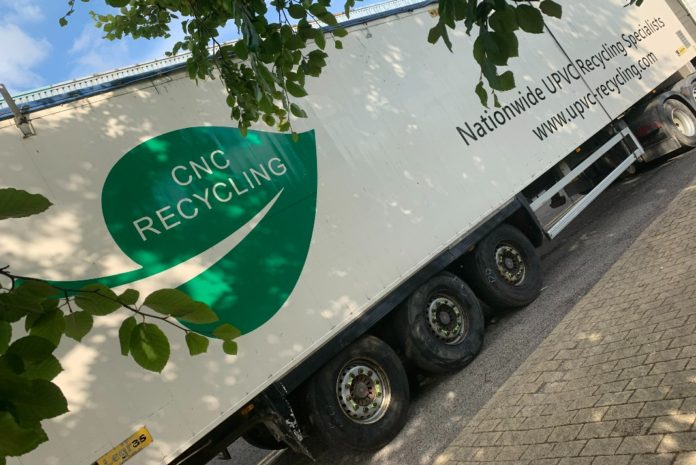 The Glass and Glazing Federation (GGF), along with two brands from its commercial division – Fensa and the British Fenestration Rating Council (BFRC) – has partnered with Middlesbrough-based window and door recycling specialist, CNC Recycling, to launch a new PVC-U recycling scheme for installers and manufacturers. The scheme will initially be rolled out across Scotland, Wales and the north and midlands of England, with plans to expand throughout the UK as demand increases. GGF members, together with Fensa- and BFRC-approved installers and manufacturers, can book to have deglazed old frames and offcuts collected from site, free of charge, for recycling.
John Agnew, GGF's managing director, said it was important that the organisation showed leadership in this key environmental initiative. "This partnership with CNC will encourage the UK PVC-U framing industry to further improve an already successful record in the recycling of old frames to begin life as new products, ideally window and door frames. It is enormously important that the industry is seen to be treating end of life PVC-U frames in such a positive way, and appropriate therefore that the industry's primary representative organisation, the GGF, has launched this scheme."
Chris Beedel, Fensa's head of membership, added: "As a society, we are all becoming increasingly concerned by the impact of plastic waste on the environment, so diverting window and door frames from landfill with this scheme will not only save installers the significant cost of skip hire, but it will also be an attractive proposition for environmentally conscious consumers. Fensa is delighted to move forward with this scheme, in partnership with CNC Recycling. It will certainly be of huge benefit to the installers and manufacturers who participate."
Lis Clarke, the BFRC's operations director, said: "Offering a free service to our clients that helps both their business and the environment is a win-win scenario for the industry. BFRC is thrilled to be a part of such an important initiative that benefits the entire sector and we look forward to seeing the results."
Melanie Reid, managing director of CNC Recycling, said: "We are delighted to offer this service through GGF, Fensa and BFRC. It will provide a much-needed service to GGF members, Fensa-approved installers, BFRC manufacturers and the industry, whilst also making a significant difference to their sustainability credentials, an increasingly important issue amongst homeowners."
In addition, scheme participants will receive a certificate at the end of the year, recording the amount of waste material they have recycled via the initiative. The vast majority of materials recycled will remain in the industry to create new fenestration products.
Once collected, the end-of-life PVC-U windows, door frames and virgin offcuts are reprocessed to produce a recycled pellet, from which new PVC-U products may be directly manufactured or combined with virgin material to make new, bar-length PVC-U profiles, for example. Thus the circular economy is completed whilst diverting old frames from landfill and significantly increasing the sustainability of the PVC-U fenestration industry.