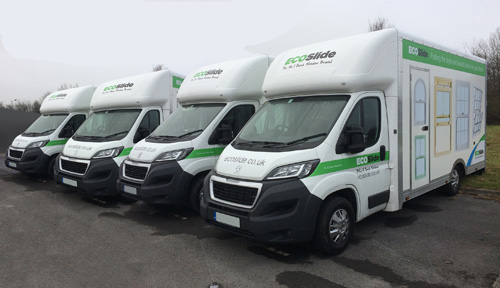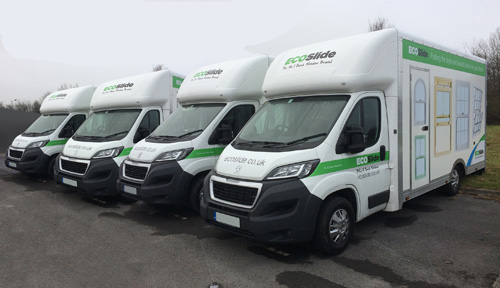 As part of an additional £1.5 million investment in increased sales and marketing initiatives, Victorian Sliders says it has introduced a 'dynamic way' to demonstrate its product quality to installers and homeowners.
A new fleet of mobile showrooms is now out and about on UK roads, professionally kitted-out with 'stylish' sample EcoSlide vertical sliding sash windows and informative display graphics.
Mark Schlotel, marketing director at Victorian Sliders, explained the rationale: "Why are we doing this? Because we want to offer the very best field sales support to help professional trade installers win retail sales. The 'EcoSlide Experience' enables our direct purchasing customers and new prospect customers to appraise the impressive quality of our EcoSlide PVC-U vertical sliding sash windows. Everyone who steps onto one of our demo vans will discover an unbeatable combination of appealing good looks, easy-to-use operating hardware, practical window cleaning and security features, excellent thermal performance and value for money."
Designed for trade installers and their homeowner customers who want to see a sample before placing an order, these special sales demonstration vans are said to provide the perfect way to closely inspect EcoSlide PVC-U vertical sliding sash windows and review foil colour and hardware finish options.
"Rather than the sales person dragging a tatty sample from the back of their estate car and wasting time preparing the relevant parts," continued Mark, "these demo vans have 10 windows ready to view including a bay window sample, prepared to give an excellent idea of what the product looks like and how it performs.
"EcoSlide is our consumer-facing brand and these demo vans are part of a marketing package which includes an eye-catching retail sales brochure and dedicated website which are all branded EcoSlide, to assist installers when they are selling our products.
"We are building brand awareness as the vans zoom up and down our British roads, but the action really starts when our demo vehicles arrive at a customer's premises. Each van is driven by one of our business development managers, who are all fully trained to present the features and benefits of our best-selling EcoSlide PVC-U vertical sliding sash windows. The quality of our products will speak for themselves, with details such as our signature extruded anti-jemmy bar cill design and exquisitely-shaped metal hardware, both of which are exclusive to Victorian Sliders. Our intention is to surprise and delight customers old and new with our unrivalled products and service. One of our EcoSlide sales demonstration vans can be driven to the mainland UK location of your choice, on the specific date (and at the precise time!) you want."
Professional trade installers can book an EcoSlide demo van appointment online by visiting www.victoriansliders.co.uk