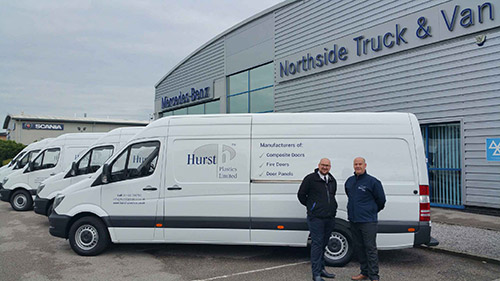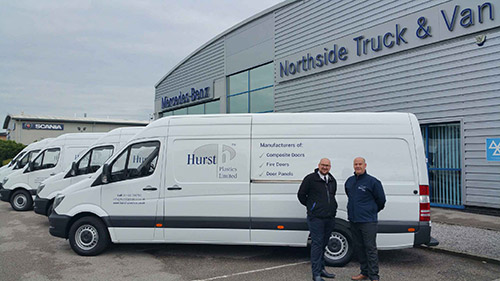 Hurst Plastics says it has 'stolen another march' in the industry with a 'major investment' into a fleet of new delivery vehicles.
The door panel and composite door manufacturer has purchased 15 brand new 'eco-friendly' Mercedes-Benz Sprinter vans as part of a £500,000 investment programme into company vehicles. According to Hurst, the move, which follows the company's investment into new vehicles for its national sales team, will help the company to further improve operational efficiency and enhance customer service.
Mark Atkinson, Hurst Plastics' sales director, explained: "As part of our continuous development programme, we have made a number of investments across the board to help us achieve growth and maintain our industry leading standards of customer service. This is a significant venture for Hurst Plastics and one which is fundamental to the service we offer our customers.
"We are incredibly proud to deliver more than 99% of our doors on our own fleet. This record surpasses the industry norm and gives us far greater control over our lead times. By being transparent in all aspects of our supply chain, we are able to maximise efficiency, whilst minimising delays and this makes a valuable contribution to how effectively our customers can run their businesses."
Jon Brake, Hurst Plastics' transport manager, added: "As part of our strict environmental policy, we opted for eco-friendly vehicles which are designed to meet Euro 6 emissions. Euro 6 is the most stringent emissions standard, which aims to eliminate most of the exhaust pollutants that have an impact on air quality. Despite taking on more sizeable contracts, we've also continued to streamline all deliveries to reduce fuel consumption.
"We deliver up to 7,500 door panels and 1,500 composite doors a month and each of our vehicles notches up around 100,000 miles a year. It's important therefore to optimise speed, accuracy and efficiency and reduce our impact on the environment."
Each vehicle in the fleet is equipped with Hurst Plastics' fleXipod electronic proof of delivery system, which is said to provide Hurst's customers with accurate, real time information on its scheduled deliveries. Hurst was reportedly one of the first companies in the industry to adopt this system which uses the latest GPS tracking technology to pinpoint the exact location of a Hurst delivery vehicle at any time.
Hurst's fleXipod system integrates with the company's Hurst Live package which provides customers with live information on every single order they place. Hurst Live's intelligent technology enables customers to easily chart the real-time status of their order, from processing through to manufacture and onto delivery. In conjunction with fleXipod, it captures essential delivery recipient information, including a signature for proof of delivery.