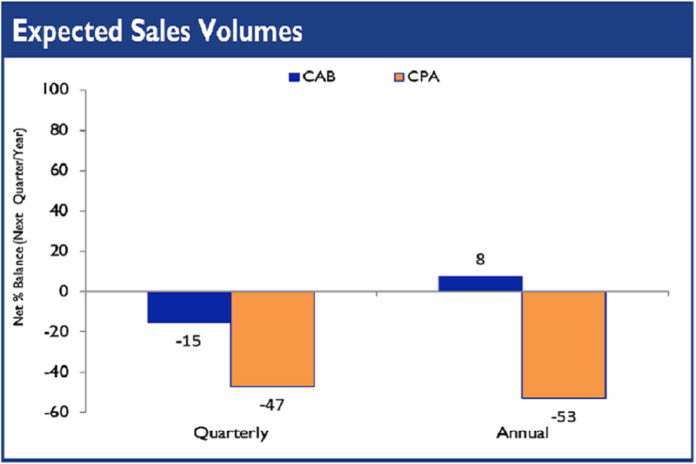 The Council for Aluminium in Building (CAB) has reported sustained growth in sales of aluminium products, despite a decline at the wider construction industry level. Phil Slinger, CAB's chief executive, has predicted that sales growth in aluminium sales is likely to continue. Phil's comments follow publication of the State of Trade Survey for Q3, which was created by the Construction Products Association (CPA), of which CAB is a member.
The latest State of Trade Survey revealed that, on net balance, 12% of 'heavy side' firms saw sales fall – the first quarterly decrease in sales since Covid-19-pandemic-related restrictions were introduced in 2020 Q2. A fall in sales for heavy side firms indicates a reduction in project starts, Phil explained, and, as fenestration requirements can be up to 12 months on from the start of a project, CAB members are still reporting strong historic sales of 54% on net balance, which is stronger than reported in Q2.
Just 8% of company representatives on net balance indicated that there would be sales growth in the year ahead. By contrast, in Q2, members forecasted 52% growth for the next quarter and 38% growth beyond that. Phil predicted that forecasts could bounce back though, as the UK government appears to have stabilised the financial markets under chancellor Jeremy Hunt.
Recipients completed the State of Trade Survey in early October, which was directly after the former chancellor Kwasi Kwarteng's mini budget (23 September). As such, the results are likely to be skewed by reactions to that budget, according to CAB's chief executive. With the mini budget in mind, respondents to the survey indicated a pessimistic view of the future: 15% of members on net balance expected a fall in sales in the next quarter.
According to CAB's chief executive, historic unit costs remain high for all construction product companies, though those costs are slightly softer than the Q2 figures. Companies have forecasted unit costs to remain high for the next quarter and year head.
Energy costs remain the biggest influence on cost factors, the report has shown. Members reported increases of 100% on their business energy costs. Fuel costs have softened since Q2, when it was reported as the biggest influence at 100% on net balance.
In Q1 and Q2 capital investment centred on product improvement but in Q3 this changed to plant and equipment, according to Phil. He went on to suggest that wider adoption of more energy-efficient machinery could be due to pressures to reduce costs. CAB members have also increased capital expenditure in property, growing from 33% in Q1 and Q2 to 50% in Q3.
CAB's chief executive said: "Whilst the Q3 State of Trade Survey report offers reasonable stability in turbulent times, it remains to be seen what future budgets will be brought forward by the UK government in order to curb a high inflation rate." The next quarterly report is due in January 2023.