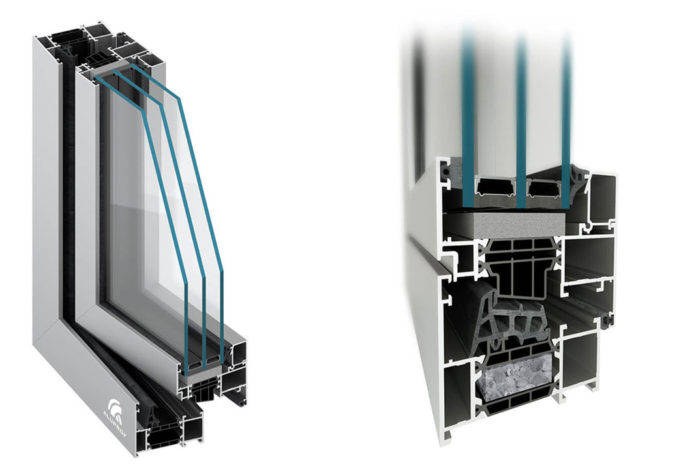 Aluprof has launched the MB-79N window and door system, an evolution of the MB-86 Aero and MB-70 systems.
The MB-79N is said to utilise the same aluminium profiles as the 'MB-70' with the introduction of newly designed and slightly wider hollow polyamide for vent profiles. According to Aluprof, these structural, lightweight and thermally efficient profiles separate the inside and outside aluminium profiles creating a competitively priced system.
The window system is designed for a broad range of applications including fixed, turn, tilt, and tilt-and-slide windows, exterior doors, both in single and double configuration, and shop window-type solutions with entrance doors.
Aluprof adds that the use of competitively priced insulation inserts to accompany the polyamide profiles, are key to the system's high-level performance and value proposition. The 'MB-79N' system is available in three variants:
The 'MB-79N E' the entry level and most economic system. The 'MB-79N ST' with a two-component central gasket for opening vents to provide high thermal efficiency. The 'MB-79N SI' which provides the highest thermal performance with thermal inserts produced using expanded polystyrene (EPS) and the two-component central gasket.
The 'MB-79N SI' can activate an impressive thermal frame value, Uf, of just 0.83 W/m2K, which will offer window system U values down to 0.9 W/m2K and doors of 1.3 W/m2K.
Available in January 2021, Aluprof says the system is available now to be specified on new and refurbishment projects across the UK.
Since setting up the Aluprof office at the Business Design Centre in London, the company says it has rapidly grown its specification influence in the UK with its high performance architectural aluminium systems. Further expansion of the company's headquarters in Altrincham, provides specifiers with meeting facilities and a showroom of commercial systems to view.