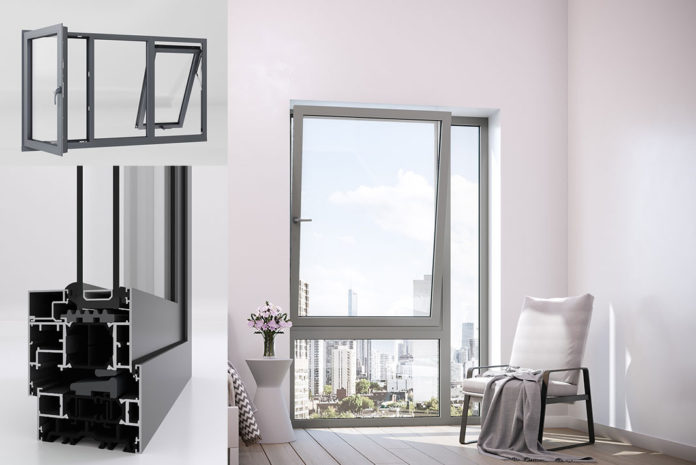 AluK has launched the C70S 70mm window, which the company is describing as 'the big brother' to its 58BW window system.
According to AluK, the C70S has all the clean lines, slim sightlines and advanced functionality which its customers love about the 58BW, but with increased weather performance and new design features for even faster fabrication and installation. AluK claims the new window will help increase margins and improve competitiveness.
Assembly is reported to be quicker, thanks to clip-together detailing on the sub cill, frame extenders, and Z adapter, and a universal EPDM carrier groove means that the EPDM strip can be fitted 'reliably and easily' using a simple, AluK-supplied 'snap-in' PVC profile. Fabricators also have the option to use crimped or mechanical corner cleats ensuring that the C70S can be integrated into any fabrication set up.
For installers, the system allows for reversed glazing without the need for a frame reverser, making it ideal for glazing at height, and it is available in a wide choice of configurations including side and top hung casements and TBT windows to suit almost any application.
AluK says the C70S meets and exceeds all the key thermal, acoustic and performance criteria laid down by commercial specifiers, and 'opens up exciting new opportunities' for customers targeting both residential and commercial projects.
For instance, the C70S can achieve 'U' Values of between 1.1W/m2K with triple glazing and 1.3W/m2K with double glazing. However, it also comes with lots of options in terms of glazing and 'clever' foam insulation strips which give fabricators the flexibility they need to be able to design 'U' Values either up or down to suit the specification of each project.
It is also said to boast class-leading wind (600Pa) and water tightness (1500Pa) performance, even with large span window openings, and has the option of 50mm acoustic glazing, which means it can be used everywhere from exposed coastal settings to noisy city centre locations.
Both inward and opening windows have been successfully tested to PAS24 and accredited to SBD, ensuring that the C70S is suitable for all projects requiring Approved Document Q.
Marketing director, Sioned Roberts, says that the C70S will be the platform on which AluK builds an entire new range of 70mm products, giving customers the same benefits of system integration which they already enjoy with the 58BW.
She also points out that one of the big advantages of the C70S is that it shares the sightlines and many of the parts and tooling required to manufacture the 58BW: "This means customers can add the new system to their range without a significant increase in their stockholding and give themselves flexibility on project specifications."
The C70S is available on five-day lead times from stock in white, grey, black and dual-colour white/grey and white/black options. Other colours and finishes are available to order.