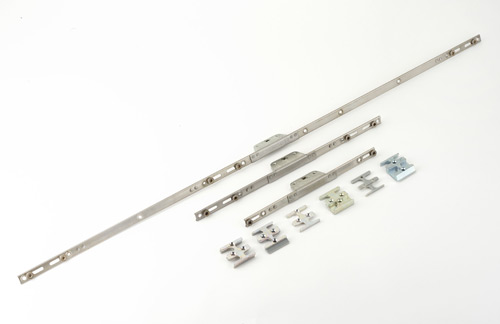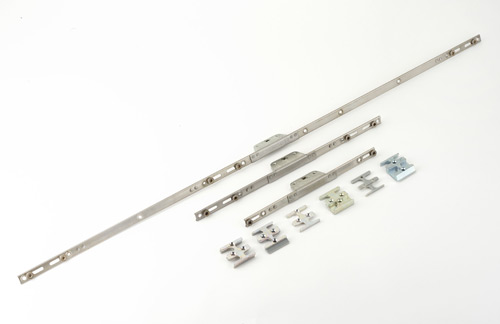 Kenrick says it has 'stimulated the market' with the launch of a brand new bi-directional twin cam espagnolette window locking system which has been designed specifically for aluminium profiles.
The product – named Nemesis – has been launched to bring a greater variety of locking systems to fabricators operating within the increasingly popular domestic aluminium market.
Steve Williams, sales director at Kenrick, explained: "Aluminium is a rapidly growing sector of our industry and the Council for Aluminium Building (CAB) recently reported that the number of installers offering aluminium has risen by more than 40% in the last five years. The industry has been excited by the huge potential out there but frustrated with the lack of choice in hardware.
"Well, not anymore! Nemesis has widened the choice of locking solutions beyond what's currently available and now allows fabricators to choose the most suitable multipoint locking system to suit their needs.
"Nemesis has been designed to offer rapid installation for the fabricator, whilst providing ultimate security for the homeowner and the feedback we've received from our customers has been fantastic. They're really enthused by the potential of this cost-effective system to help them to increase their profit margins and make the most of the lucrative aluminium sector."
Nemesis has been developed to suit aluminium profiles which come with or without a Euro groove. Described as a reliable multipoint locking system that benefits from a robust offset handed die-cast gearbox and bi-directional twin cam locking, it is said to deliver 'the first-rate security features that homeowners expect', whilst being simple to install in all major aluminium profiles.
Nemesis incorporates stainless steel faceplate drive bars and mushroom cams to enhance both its appearance and longevity. The mushroom cams are available in 5mm and 7mm heights and are adjustable to +/- 1mm to aid compression once it has been fitted.
Keeps are currently available for all the major aluminium systems, including Smarts Alitherm 300, Smarts Alitherm 600, Smarts Alitherm 800, Smarts Alitherm Heritage, Smarts EcoFutural, Sapa Crown, Sapa Dualframe and AluK.
According to Kenrick, Nemesis has been fully tested at Exova BM Trada and is Secured by Design and PAS 24: 2016 accredited. It has been function tested to 100,000 full cycles (open/close, lock/unlock) and also exceeds the requirements of BS EN 1670: 2007 Grade 4 (severe) rating for salt spray corrosion resistance.