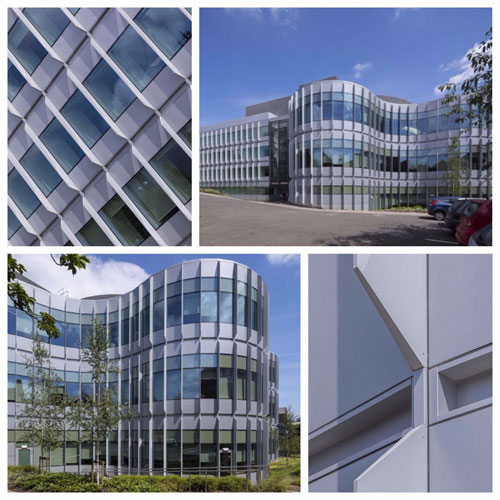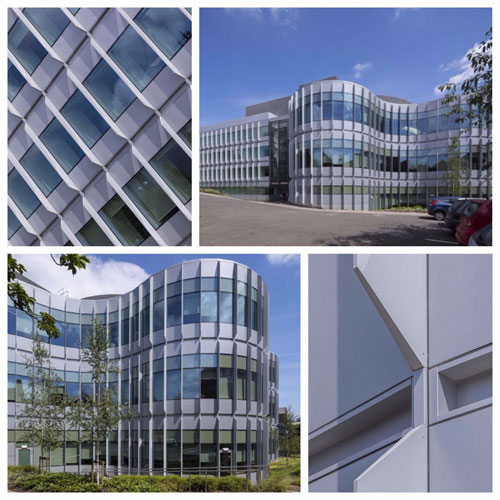 The New George Green Library at the Nottingham University Campus has recently been extended and refurbished with a new curtain wall facade supplied by Aluprof UK.
Designed by Hopkins Architects the existing library with low ceiling heights has been extended to form a new 'social hub' for students. Aluprof's MB-SR50N EFEKT curtain wall system was specified for the project which ensured that there was no horizontal capping visible and that the vertical cappings were emphasised. These deep cappings were cut between floors at 45º to offer an 'aesthetically pleasing' facade around the complete building. The new extension forming the social hub is extensively curved on plan and the versatility of the Aluprof MB-SR50N EFEKT is said to 'easily form' the new three-story facade.
Aluprof's technical team worked closely with BDA Facade consultants to deliver a 'thermally efficient solution for a complex detail requirement'. The new library now offers a BREEAM Excellent rating.
George Green was a 19th century, British mathematical physicist who is known for writing 'An Essay on the Application of Mathematical Analysis to the Theories of Electricity and Magnetism', now known as 'Green's theorem'. Brought up in Sneinton, now part of Nottingham, Green's life story is remarkable in that he was almost entirely self-taught, receiving only about one year of formal schooling as a child, between the ages of eight and nine.
The £20.5 million refurbished library offers space for 8,000 linear metres of books and periodicals, has taken almost three years to complete and was officially opened by Prince Andrew in March 2017.
Aluprof's extensive range of systems which include unitised curtain walling, sliding folding doors and a wide range of window systems are increasingly being specified on a variety of residential and commercial projects across the UK. All systems are designed and installed by selected, specially trained companies to ensure each product meets the Aluprof exacting standards.