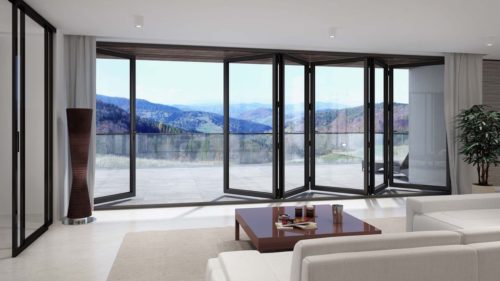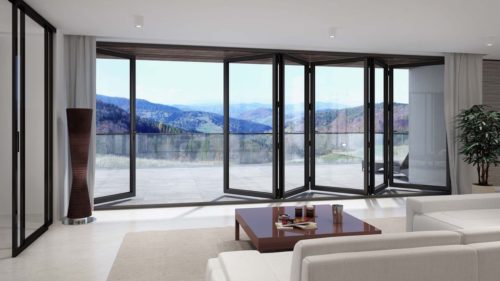 The new sliding folding MB-86 Fold Line is the latest addition to the wide range of sliding door systems from European aluminium systems company, Aluprof.
With a hinged stile sightline of just 133mm, the new system is said to maximise the all-important glass area. Designed for heavy-duty use, the system is suitable for both residential and commercial installations, and is said to offer 'excellent life expectancy'.
The MB-86 Fold Line features a 77mm wide, triple chamber door leaf profile, with a 34mm polyamide thermal break for 'excellent' thermal insulation and strength, allowing doors of up to 2700mm high and 1000mm wide. The Aluprof designed, dedicated hardware, allows door leafs of up to 100Kg in weight to be accommodated with the option of triple, or quadruple glazing, to be easily specified up to 60mm in thickness. Rebated and low-level thresholds are an option as well as open in and open out options for the folding arrangement.
With a low profile count, for what is a very flexible sliding folding system, Aluprof claims that fabricators do not need to stock an extensive range of profiles to manufacture the complete system. Furthermore, the MB-86 Fold Line is fully compatible with the MB-86 range of framing, door and window systems making it one of the most flexible systems for any application.
Aluprof says that its systems are increasingly being specified on a wide range of residential and commercial projects across the UK. All systems are designed and installed by selected, specially trained companies to ensure each product meets the Aluprof exacting standards.