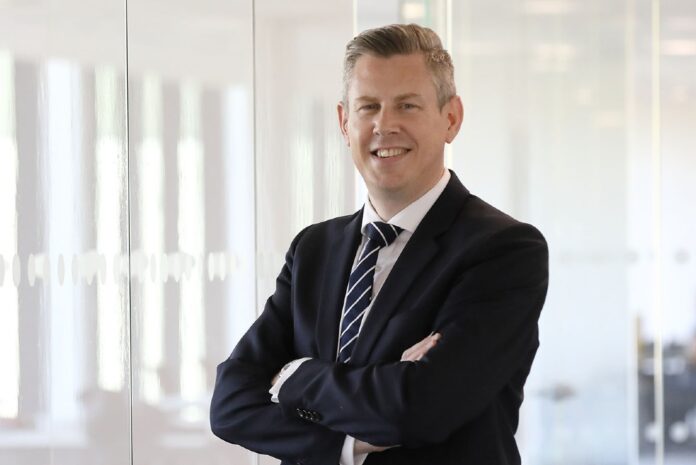 Members of the Reynaers UK team have joined colleagues from across the Reynaers Group worldwide at the BAU exhibition in Munich this week. The international trade show began on Monday (17 April) and continues until Friday (21 April 2023). BAU Munich is a trade fair for architecture, materials and systems that takes place every two years.
Representatives of Reynaers Aluminium and Forster, both brands that are part of the Reynaers Group, have joined forces for the first time at BAU, aiming to show visitors the possibilities that aluminium and steel can offer in the building sector. The Reynaers Aluminium team is based on stand 331 in Hall B1, and the Forster stand is on 329, which is adjacent. Both stands cover an area of approximately 416m² and share an extensive hospitality area for visitors, we are told.
The UK team heading to BAU includes managing director of Reynaers UK, Richard Hall (pictured), and John McComb, technical services director and sustainability lead for Reynaers UK. "It's a privilege to support Reynaers Group at BAU 2023," said Richard. "The Reynaers and Forster stands look impressive, and showcase a range of new innovations on the horizon, including the group's new developments in windows, doors and curtain wall, as well as state-of-the-art smart technology which will be rolled out to the UK market in the coming months."
The central theme of the stand is the company's continued efforts to make building materials more sustainable. Reynaers Group launched its sustainability strategy, "Reynaers Act", last year, which sets out the company's commitment to a series of ambitious sustainable objectives. One of the goals is to enable its customers to make greener and more energy-efficient choices for their building projects.
"One of the priorities in our sustainability efforts is to help partners make more ecological choices. We demonstrate our commitment at BAU with the launch of interesting new features," said Ken Wright, corporate sustainability manager, for example the Reynaers Aluminium team is also set to introduce BAU visitors to DigiTrace, the firm's digital product passport, which has been designed to enable quick and easy access to all product data, and which will be rolled out fully in 2024.
"For Reynaers Aluminium and Forster, BAU 2023 is the perfect opportunity to get together with all our professional partners and help them bring projects to the next level," said Dominique Schaeken, Reynaers Group's chief marketing officer, "especially when it comes to solutions that need to meet increasingly stringent sustainability standards." Read more about the business at reynaers.co.uk.