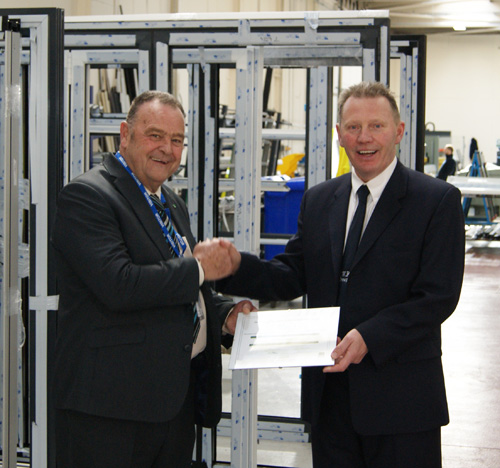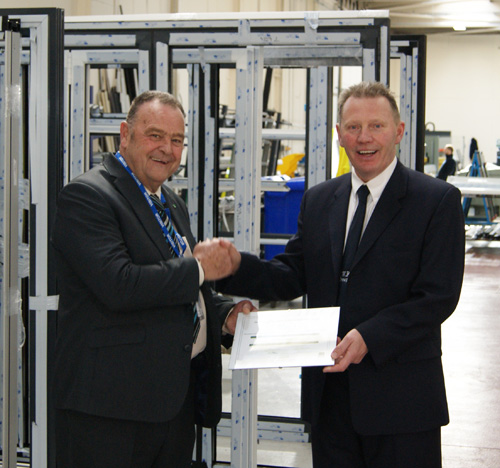 Trade fabricator, TWR Trade Frames, is reportedly enjoying 'huge success' with aluminium bi-fold doors and regularly produces more than 50 per week in its 25,000ft2 factory in Peterlee. It has a nationwide customer network and regularly delivers to installers from as far a field as Scotland, Wales and the south of England.
The product formed a major part of TWR's recent open day presentations and has been so successful that the Peterlee factory was opened last year to cope with increased aluminium production, having outgrown capacity at the existing factory in nearby Sunderland.
The bi-folds are produced from Smart Visofold profile and are geared using the greenteQ Clearspan hardware system from VBH that includes adjustable roller assemblies to help with quick and easy installation. The profile is powder coated on site to the customer's individual specification and is then geared using Clearspan hardware in black, white or anthracite grey, with additional colour options on the handles.
The doors are secured using greenteQ main door and intermediate sash locking systems.
Clearspan hardware has been tested at BSI to the PAS 24 security standard. Those installers who deal with the new build market must be able to demonstrate to Building Control that their doors meet the requirements of approved Document Q. TWR are able to supply third party certification from BSI that this is the case with their Clearspan 'PAS 24 Spec' bi-fold doors TWR's managing director, Terry Richardson, was presented with a certificate to mark TWR's commitment to produce bi-fold doors to the Clearspan BSI 'PAS 24 spec'.
VBH area sales manager, Des Turnbull, said: "The management at TWR is forward thinking and customer driven. I was amazed to see from my records recently that they have manufactured over 3,500 bi-folds since starting with greenteQ. I saw for myself at their open day in March how they interact with their customers and it's obvious that their combination of great customer service and top notch products is the perfect formula for repeat business.'