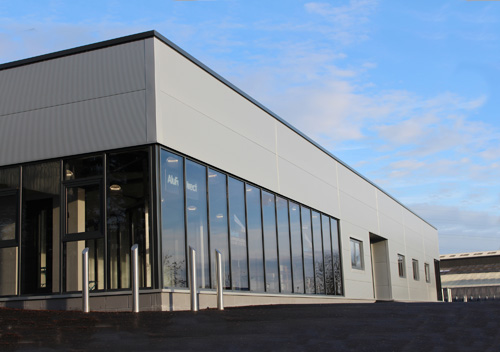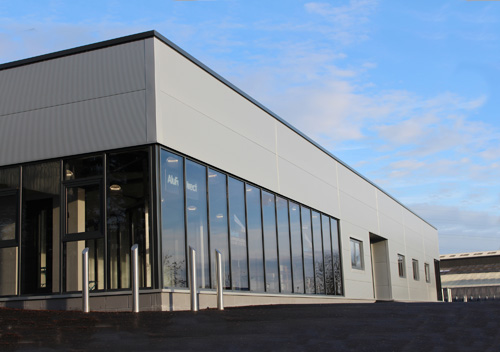 Architects and specifiers looking for Secured by Design, thermally efficient commercial doors should visit the new AluFoldDirect Aluminium Glazing Design Centre in Blackburn to see examples of Jack Aluminium's Jack Door system.
The new showroom and advice centre gives visitors the chance to see, touch and feel precision-made aluminium doors and windows and speak to in-house experts about their project. The inclusion of the Jack Door in the centre reflects AluFoldDirect's success using the system to fabricate its commercial doors, which are popular with customers for their high quality finish and robust long-term performance.
The AluFoldDirect Aluminium Glazing Design Centre contains several examples of the Jack Door with different hardware and colour options. There's even a Jack Door at the main entrance to the AluFoldDirect factory, where the design centre is based. In addition, the building's exterior curtain walling is also fabricated from the Jack Aluminium system.
"The best commercial doors need to tick several boxes. The reassurance of SBD is increasingly important, but architects and specifiers tell us they also want strong aesthetics, thermal efficiency and affordability," said Craig Miller, managing director of AluFoldDirect.
"We fabricate the Jack Door because Jack Aluminium's rigorous product development puts all of these qualities together. They've gone the extra mile to have a wide variety of door styles independently tested to PAS 24. That means we can fabricate entrance doors, emergency exits, mag lock and remote access doors – all Secured by Design for customers.
"From a manufacturing viewpoint, the Jack Door fits into our ethos, so we can be competitive on price and fulfil our guarantees to customers for fast delivery to site."
Jeff Pearson, sales director at Jack Aluminium, is pleased with the high profile given to the Jack Door at the AluFoldDirect Aluminium Glazing Design Centre. "It's always helpful for architects and specifiers to see the quality of the Jack Door system up close. AluFoldDirect has created an amazing space for visitors to discover the opportunities in commercial doors."
Find out more about the AluFoldDirect Aluminium Glazing Design Centre by visiting www.alufolddirect.co.uk