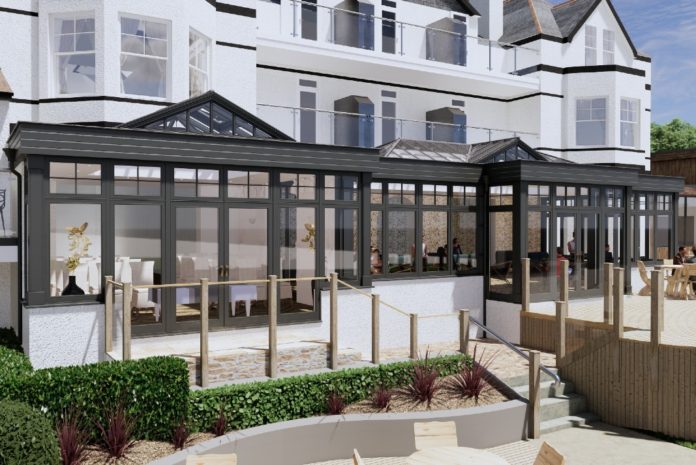 Somerset-based supplier David Salisbury successfully completed the design and installation of a bespoke, premium-quality orangery at the award-winning Carbis Bay Hotel and Estate, the luxury resort near St Ives, Cornwall, that was chosen to host the recent G7 Summit. The newly opened orangery is part of the latest phase of the hotel's refurbishment and investment programme.
The existing conservatory, which occupied a prime position offering panoramic ocean views, needed replacing to bring it up to the superior specification of the rest of the estate. As well as overcoming aesthetic concerns, the most pressing requirement was to create a more comfortable indoor environment: the previous PVC-U extension was plagued with temperature issues.
Karen Bell, David Salisbury's creative director, explained: "While conservatories of the 80s and 90s may be associated with climate control issues, thankfully, with more updated manufacturing methods, alongside advances in heating and ventilation, it's possible to have an extension that is suitable for all seasons. With modern glazing technologies and joinery techniques, bespoke wood orangeries are ideal for year-round enjoyment. Having been popular in residential settings for years, they are becoming increasingly prevalent in commercial applications, not least in the luxury hotel sector.
"For this particular project, it was important to retain as much glazing content as possible. The previous conservatory provided diners with a wonderful panorama of the Atlantic and ensuring these views remained was essential."
Alongside the installation of the new orangery, the entrance and roof area of the spa building was updated in a complementary style, to present a uniform appearance across the sea-facing facade of the hotel. The process of agreeing the design and scope of the project hinged on the quality of 3D design visuals, to provide clarity of concept and, critically, to ensure that the demanding timeline was met.
The design process was accelerated with regular communication key to ensuring that the evolving design requirements were met. The hotel and David Salisbury reached an agreement just five weeks from the initial enquiry.
The David Salisbury installation team began work on site in early January, battling challenging weather conditions. Rain and snow ate into an already restricted timeframe, however, the new orangery is complete and was ready to welcome G7 summit attendees on 11 June 2021.
Stephen Baker, owner of Carbis Bay, said: "The eyes of the world will be on Carbis Bay during the summit, and as a leading luxury venue in the area, it is important to use this as an opportunity to highlight Cornwall as a destination for business and for pleasure. For us, that means showcasing our waterside restaurant with breathtaking views of St Ives Bay.
"David Salisbury has helped us deliver on that wish and we're delighted with the results. We partnered with them due to their extensive experience in successfully designing and installing premium quality orangeries for exclusive hotels, wedding venues and restaurants. Their working knowledge and expertise in the hospitality sector meant they were able to create a beautiful bespoke structure befitting of the environment."