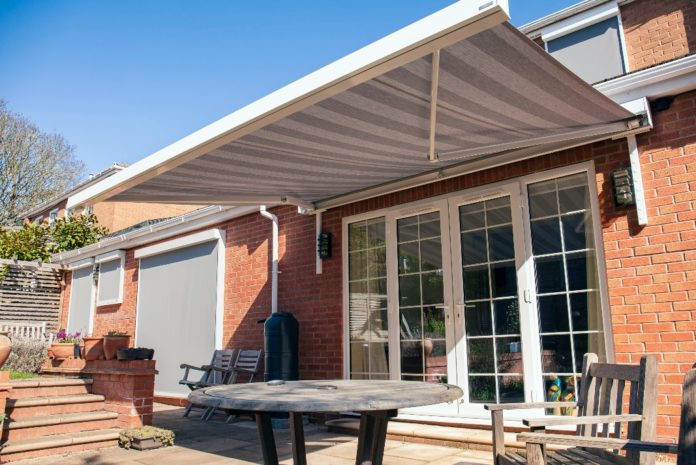 Caribbean Blinds has installed Antiguan windproof outdoor roller blinds, and a Cuba awning, to the south-facing windows and patio area of a residential property in Surrey. The project completed in February was to meet the family's needs of a more temperate environment in a part of the home that was prone to overheating. The family also wanted shade and shelter while ensuring an unhindered view of their garden, all year round.
The initial contact came from the client at the end of December 2020. This quickly moved to the site survey and consultation at the beginning of January 2021 and then to the manufacture, resulting in the installation at the end of February 2021, ready for the client to enjoy from Easter.
Following a detailed site survey and initial consultation, the team at Caribbean Blinds recommended Antiguan external roller blinds, as, not only do they encompass sleek design, the zip locking technology built into the side guides locks the fabric in place at every position, rendering the blind windproof and preventing light shining between the edge. The blind also acts as an insect screen. All fixings are hidden and the full cassette headbox discreetly provides a neat hideaway for the blind, ensuring a seamless addition to the customer's home.
For the patio doors, the business suggested a Cuba awning, which is described as the crème de la crème of its range. Its contemporary, rectangular, flush-fitting, full cassette design mirrors the square design of the roller blind headboxes, and it extends a generous 3.75m out, to fully cover the large patio area.
A fully detailed quote was provided, along with images and videos of similar projects for reference. The Caribbean Blinds team then undertook the manufacture, keeping the client informed of progress, before agreeing the installation date.
The installation was completed by the business' technicians in just two days, with minimum fuss and maximum attention to detail. Once complete, a full demonstration and run through was provided to the client.