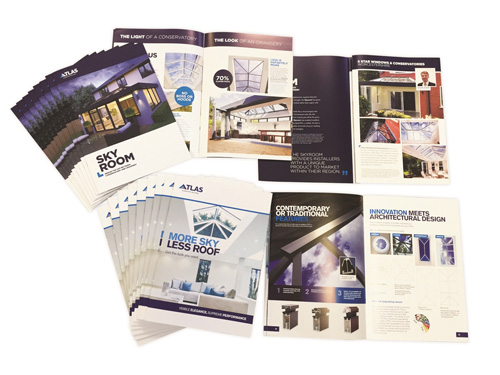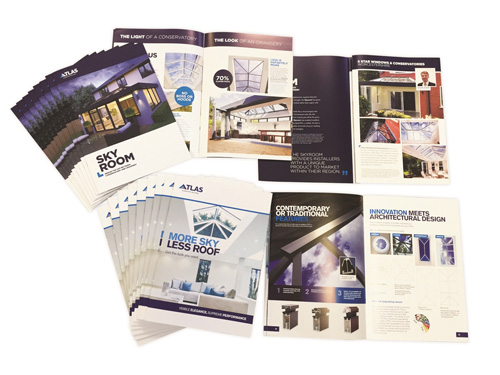 Atlas Glazed Roof Solutions says it has bolstered its showroom and marketing support package with the launch of three brand new brochures, created to help the company's network of installers win more business.
In another 'perk' to its package, the firm is also treating installers who have fitted five or more Skyrooms to a free professional photoshoot of their installations, to help them showcase their work.
The trio of professionally designed marketing materials includes a new trade and retail brochure, a new Skyroom product brochure and a selection of case studies from 'high-profile' Atlas installers.
The trade brochure and Skyroom brochure can be personalised with the installer's logo and company details, and even its corporate colours, to create a bespoke suite of installer literature.
The new 28-page trade and retail brochure introduces the Atlas range of rooflights, orangeries, lanterns, conservatories, verandas, lean-tos and the new Skyroom. The brochure is also packed with photos of real installations to demonstrate the architectural scope of the range.
The 12-page Atlas Skyroom brochure showcases the new Skyroom – which Atlas describes as a 'remarkable development' in aluminium orangery roof design.
Said to be the slimmest and one of the strongest contemporary orangery roof systems in the industry, the Skyroom delivers what Atlas claims are 'superior looks and supreme performance'.
Like the trade and retail brochure, the Skyroom brochure features more photos of Skyroom installations, designed to 'inspire' installers and homeowners. For installers who have completed five Skyroom projects, Atlas is offering a free professional photoshoot of each installation.
The photos can then be included in a personalised Skyroom brochure, exclusive to the installer.
'Well known' conservatory installers also provide an account of their experiences of selling and fitting the Skyroom in a four-page case study brochure. The installers describe their 'top desires' in conservatory roofing systems and how the launch of the Skyroom has helped them to attract new businesses.
Gareth Thomas, sales and marketing director at Atlas Glazed Roof Solutions, said: "Sales of our range of conservatory roofs, lanterns and rooflights have gone through the roof in the last year and our customers clearly appreciate the unique features of the Atlas roof. It is, however, important for us to back up the product with a package that has real substance behind it, and to continue to enhance and refresh that package. We believe that this suite of materials is the most comprehensive in the industry and it is unique because it is very adaptable to the individual installer and can be personalised to them."