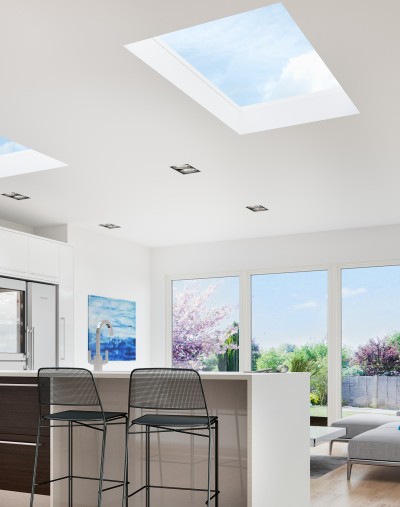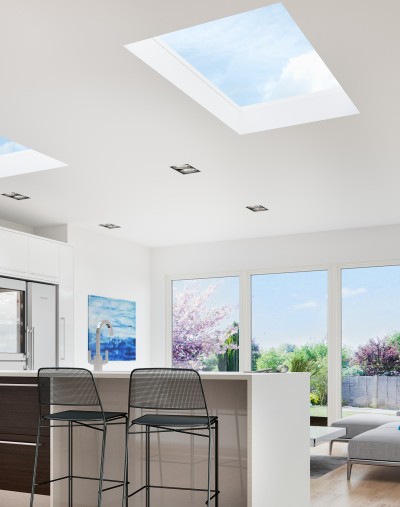 'A new generation in flat rooflight design' has been unveiled by Atlas Glazed Roof Solutions.
The flat rooflight, which, according to Atlas, brings 'ultimate performance and maximum light' in a 'sleek, minimalistic' design, complements the company's range of aluminium conservatory and lantern roofs.
Created to deliver 'all sky and no roof', this ultimate performing fixed flat rooflight features a 27% slimmer overall frame height than its rivals to achieve a flush glazed look with minimal internal and external sightlines. It delivers a complete roof (glass and frame) 'U' value of 1.3 W/m2k, without the need for triple glazing.
Atlas says the new flat rooflight is the best looking and the highest thermally performing double glazed flat rooflight on the market thanks to its bespoke structural PVC-U internal core and sleek aluminium internal and external capping. Fitted flush to the internal plaster, the rooflight appears frameless from below to create the illusion of an open roof space.
Gareth Thomas, sales and marketing director at Atlas Glazed Roof Solutions, said: "We are really excited to launch this sensational product, which has been designed to open up the roof space and cast the maximum amount of light into a room for a dramatic effect. Aesthetic functional and price competitive, it delivers superior thermal properties and slim internal and external sightlines which are unmatched. And just like the rest of the Atlas range, it has been carefully developed to be extremely fitter-friendly so it is very easy to transform a mundane flat roof into a breathtaking light pool. It is the ultimate flat rooflight, which delivers on all fronts."
The flat rooflight has been designed to be fitted with ease. The frame can be simply screwed from the side with hidden direct fixings or from the underside with a strap fixing. Unlike some alternatives where the plasterboard visibly buts up to the glass, this system features an internal plasterboard pocket for easy bordering and plastering. The clip-in aluminium external weather bar and internal cover trim provides a crisp, subtle finish to the rooflight. Insulated kerb upstands are also available if required.
Self-cleaning glass and a 10-year seal and easy-clean coating warranty ensure that the rooflight will require minimal maintenance through its service life. The rooflight does not compromise on weather performance either and its five degree pitched kerb allows water to drain off the glazing unit on to the existing flat roof.
The Atlas flat rooflight comes factory glazed with toughened Pilkington Active Neutral Solar glass. The low 'E' double glazing achieves a 'U' value of 1.0 W/m2k. It is available as standard in grey, black, white, grey on white and black on white and in six stock sizes (1x1m, 1×1.5m, 1x2m, 1.2×1.8, 1.2×2.5 and 1.4x2m), plus bespoke sizes to order.
For further information, please email marketing@atlasroofsolutions.co.uk