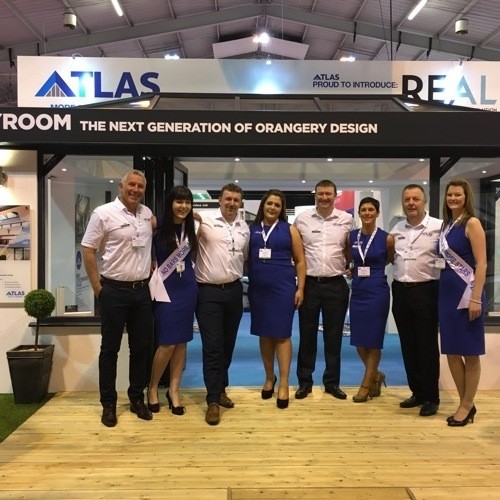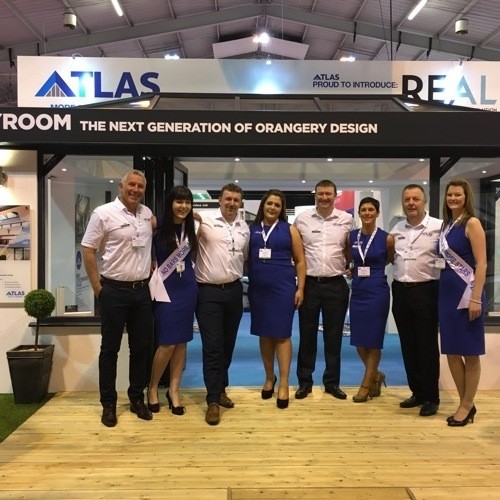 The FIT Show 2016 has been hailed as a 'flat-out' success for Atlas Glazed Roof Solutions, with the 10-strong Atlas team picking up hundreds of enquiries for what is claimed to be the industry's slimmest glazed roof.
Atlas says it proved it could compete with the bigger players in the industry, as crowds gathered to see its range of conservatory roofs, lanterns, rooflights and contemporary mock orangeries during the three-day event.
Visitors were treated to a 'spectacular array' of glazed roofing products, which Atlas claims 'are arguably the most contemporary and best looking in the industry'. They included the recently extended range of contemporary lanterns and a full sized Skyroom – which Atlas describes as 'the most realistic contemporary mock orangery on show at FIT'. With its dummy ringbeam and sleek high aluminium external cornice to create the appearance of a real orangery, the Skyroom reportedly 'wowed' visitors, many of whom, Atlas says, thought it was a genuine orangery.
The real draw to the stand however was reportedly the brand new Atlas flat rooflight, which is said to bring 'ultimate performance and maximum light' in a 'sleek, minimalistic' design. According to Atlas, every visitor was excited to see this 'ground-breaking and competitively priced' new product, which has been developed to satisfy a growing trend for flat roof products.
The slimline flat rooflight, carries Atlas' signature modern aluminium characteristics to achieve a flush glazed look, with minimal internal and external sightlines. Designed to provide 'exactly what the homeowner and installer needs in a flat rooflight', according to Atlas, it was dubbed by visitors to the show as the 'ultimate flat rooflight' and a 'fitter's dream'. Seven orders were placed for the product within hours of opening at FIT.
Gareth Thomas, sales and marketing director at Atlas Glazed Roof Solutions, said: "Atlas was the fastest growing conservatory roof system in the UK in 2015 and FIT was the perfect event for us to show off some exciting developments in conservatory roof design, especially our new flat rooflight, which generated a staggering amount of interest – everyone wanted one! This year's FIT Show was absolutely fantastic and way beyond our expectations. Our stand was packed with a superb selection of fitter-friendly products and it was buzzing with excitement from the moment the show opened until it closed.
"It's the third time that we've exhibited at FIT and this has been our biggest and best show by far. It was a great opportunity for us to demonstrate the unique characteristics of an Atlas product to new and existing customers and to catch up with our friends in the industry. So many people commented on how good the stand looked and the really high standard of our package, from our products and marketing right through to the dedicated team behind it all. We're now busy following up the enormous number of leads and planning more great installer-focused events to keep the momentum going."
A long-standing Atlas installer, Yes Glazing Solutions, visited the stand during FIT. Managing director James Howard said: "The Atlas stand certainly did not disappoint. It was clean and spacious – the perfect backdrop for the Atlas range of crisp, contemporary products. The new flat rooflight looked very good indeed and drew lots of interest. There were plenty of similar conservatory roofing products elsewhere in the show, but Atlas really shone because their products just look so good, with no fussy and unnecessary components to detract. Gareth and his team did a great job on the stand and I'm sure they'll be delighted with the response from visitors during the show."
There was more than a hint of friendly rivalry among visitors who entered Atlas's 'no bars, more stars' competition to guess how many mini stars were encapsulated in a glass unit. The winner who was closest to the exact total of 27,721 was Paul Nugent from Malvern Glass. He guessed 27,780.