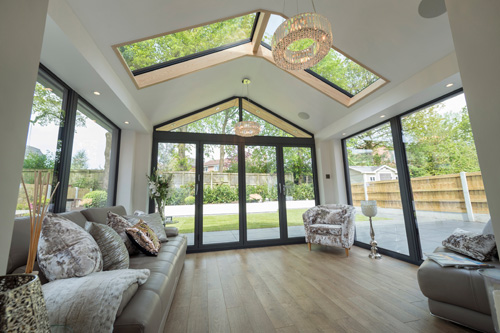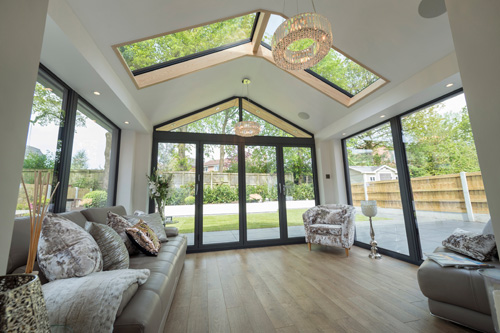 A single storey extension installed by Steve Gill Joinery has recently been completed, showcasing the Warmroof hybrid roof and aluminium glazing elements supplied by Prefix Systems.
The homeowners are said to have wanted an extension that could be used all year round and that would offer a panoramic view of the garden.
The installation was 4.4m wide x 3.4m in projection and harnessed anthracite grey full height fixed aluminium frames either side, and bi-folding doors to the front projection. The Warmroof included a deeper soffit overhang design and was dressed with a matching exterior grade hardwood and completed with spotlights.
Spotlights also featured on the internal pelmet with the triple-glazed hybrid elements framed with the Opus timber claddings and two hanging crystal chandeliers adding further to the designer appeal of the new living space. To the outside, slate cladding was used as a contrasting alternative to brick. According to Prefix, the job has been such a success that a request has been made from a neighbour for something similar.
Steve Gill said: "I knew that this project required careful attention to detail and outstanding materials, and this hybrid roof from Prefix Systems is very much unique, well-designed and effortless to install. With all the aluminium glazing also supplied by them I was able to benefit from coordinated deliveries of materials and outstanding customer and technical support."