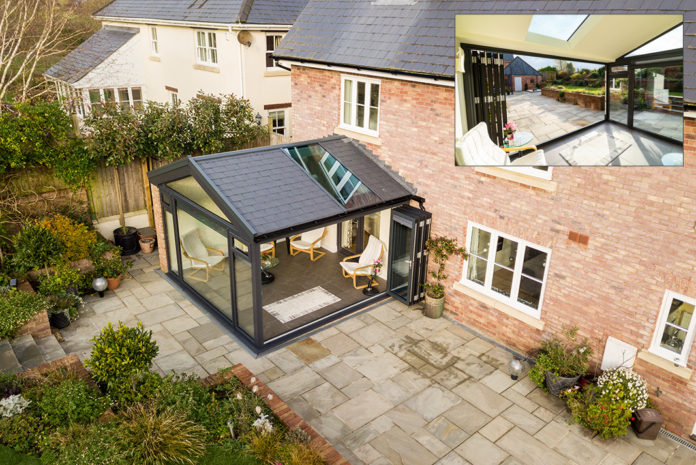 Ultraframe says that its Ultraroof tiled roofing system is engineered to provide cost savings on steel goalposts for installations featuring spans of bi-folds up to 4m.
The system's patented 380mm box eaves beam is said to provide the strength that allows for these cost savings and is also the key to Ultraframe's claims that Ultraroof is the strongest tiled roof on the market.
Ultraframe's marketing director, Alex Hewitt, said: "Innovation has always been at the heart of what we do at Ultraframe and our R&D team worked hard when designing Ultraroof to ensure that strength and large span capabilities were key USP's.
"Homeowners are increasingly demanding large spans of bi-folds and other contemporary doors for their modern conservatory designs and Ultraroof is perfectly engineered to deliver a cost-effective solution, by spanning up to 4m without the need for additional costly goalposts."
Southern Conservatories is one such company that has benefitted from Ultraroof's cost efficiency when building an Ultraroof extension, which won Ultraframe's installation of the month competition in late 2020.
Managing director, Adrian Johnson, said: "Ultraroof can support bi-folds without the need for steels, where other tiled roof brands would require costly portal frames or a compromise on the size of the doors which would impact negatively on the overall design. Large spans of doors are a key feature in the design of most modern tiled roof conservatories and extensions, and so to be able to offer this in such a cost-effective way is fantastic. The cost of a portal frame for this particular installation would have been around £3k retail, and so not having to use any extra support with Ultraroof means a very competitive quote against other tiled roof brands."
Concluding, Alex said: "It's great to hear of Ultraroof customers being able to price projects competitively and win jobs due to not needing costly steels. As you can see from this installation of the month winning project, Ultraroof is the perfect choice to create cost-effective, stunning tiled roof extensions."