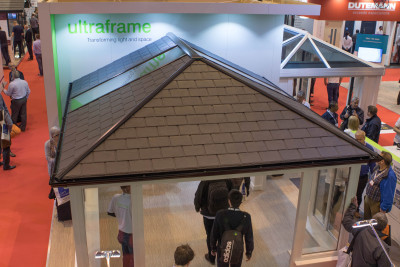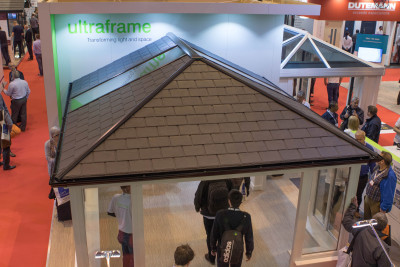 Ultraframe has reported a great response to the launch of its UltraRoof 380 product at the FIT Show, which saw the innovation previewed for the very first time.
One of four new products on the Ultraframe stand, UltraRoof 380 is the second conservatory replacement roof product from the Lancashire based roofing systems specialist. Based on Ultraframe's RealRoof, UltraRoof 380 has been engineered to make it just one third of the weight. Infact, at 38kg/m2, Ultraframe maintains that the new product is one of the lightest replacement roof products on the market.
The new roof also features Ultratile, a new copolymer interlocking slate tile system designed to make installation both fast and 'incredibly easy'.
Ultraframe's marketing director, Steve McIntyre, said: "The premise behind Ultratile, is that if you fit more, you'll earn more," going on to explain that by using UltraRoof 380 featuring Ultratile, a 4x3m roof can be fully installed, including guttering 'and all the trimmings' in six hours. This is largely thanks to a box beam girder with only three sections and large sheets, available in grey, red and brown, that are four tiles wide and three tiles high, meaning that 12 tiles are effectively being fitted at once. This makes UltraRoof 12 times faster to fit and according to Steve, "there isn't another product as quick as that".
Elsewhere on the Ultraframe stand, visitors were able to see the company's Harlington single storey extension following the recent launch of the ExtensionPlus collection, as well as another Ultraframe innovation, UltraSky.
Ultraframe's new a virtual reality showroom also caused a stir, by allowing viewers to experience Ultraframe's range of glazed extension systems via computer-generated simulation software.
The new virtual showroom, which can be viewed through special goggles or simply downloaded as an app and viewed through a tablet or phone, enables home owners to virtually step inside Ultraframe's glazed extension range, giving the home owner a feeling of how the products could enhance their home.
Summing up Ultraframe's FIT 2016 experience, Steve said: "I've done a lot of exhibitions, all over the world in lots of industries, but I've never done one like The FIT Show. It's great value for us. From 10 o'clock to five o'clock, each day, we've been flat out. We knew The FIT Show was 'the place' to launch our new products because you get so much traffic.
"We're all about innovations that really work for our customers, so they can pass that on to the consumer. Because if our customers sell more, it's more profitable for us too."