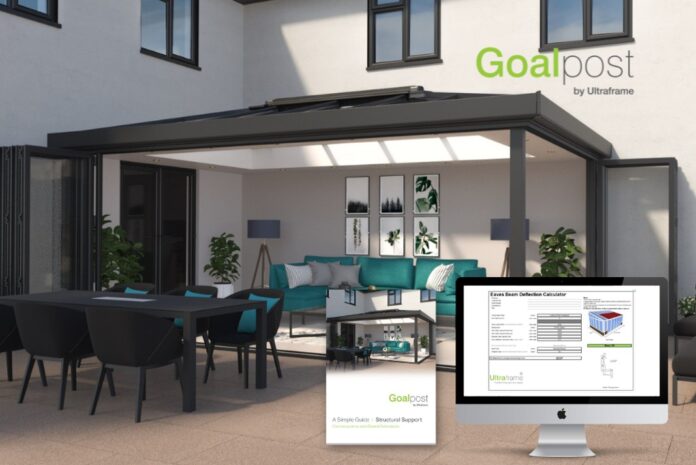 Ultraframe has introduced new structural support tools to help customers choose eaves beam reinforcements. The tools are also designed to help customers specifying the new Goalpost to achieve large, open spans. The launch aims to make specifying the correct Ultraframe structural support simple.
Alex Hewitt, Ultraframe's marketing director, said: "Having recently expanded our structural support offering with the launch of our new Goalpost, we thought this was the perfect opportunity to create a series of easy-to-use tools to help our customers choose the best structural support system for their projects. We have a range of tools available, including a guide to choosing the correct structural support for each specific project, a video about lateral stability, an eaves beam calculator, and more. We know that the subject of structural stability can be a tricky one, so we have made the tools as simple to use as possible, to ensure that our customers can navigate the topic with confidence."
The new tools available to assist Ultraframe customers with choosing the correct structural support are:
A structural support guide to Ultraframe's solutions, designed to help installers to understand which beam reinforcements or goalpost is best for each extension or conservatory design.
A lateral stability explainer video, animated to clearly explain lateral stability, and why it is important when specifying a goalpost.
EAVES BEAM SUPPORT TOOLS
An eaves beam calculator, into which you can enter the dimensions of a conservatory, and then experiment with different beams until the correct beam is identified to support the doors in a design.
An eaves beam calculator demonstration video, to show how the eaves beam calculator works.
A lateral stability flow chart, to help installers determine the lateral stability requirements of a rectangular roof.
To find out more about Ultraframe's wide range of structural support solutions, and support tools, visit www.ultraframetrade.co.uk or call 01200 443 311.