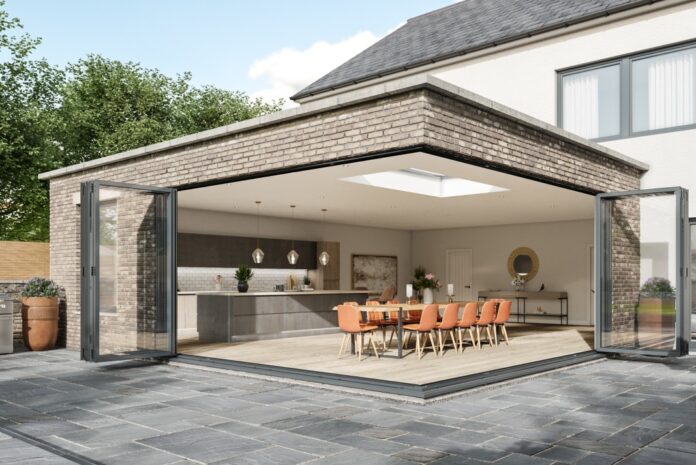 The specialist aluminium fabricator CDW Systems is set to trial the AluK Luminia F82 slimline bi-fold door with the intention of adding the product to its range. The Gloucester-based business, which is part of the East Manor Group, has fabricated AluK's BSF70 bi-fold for many years and is looking to offer customers an upgrade if they want one.
The Luminia F82 has been designed so that the frame and cill have slim sightlines of just 97mm. It is said to be thermally efficient, delivering a 1.3 U-value with double glazing, and features a pop-out handle that sits flush within the frame as well as rollers that allow for smooth and seamless opening.
Jeremy Phillips, CDW Systems' group chair, said: "We have had enormous success with the BSF70 from AluK but are looking at introducing the F82 due to its thermal properties. It's a much more thermally efficient and modern bi-fold with better sightlines for uninterrupted views, which is what customers continue to want. We are lining up training for that in the factory.
"It won't take over from the BSF70, which we will still be offering, but we are trying to make sure we are prepared for 2025 and whatever that brings. We also want to make sure that we can offer our customers an upgrade if they want a more stylish, sleek, and high-end aluminium bi-fold door. There will certainly be a demand for it, and we are looking forward to seeing what our customers think."
Established in 1992, CDW Systems is one of the UK's longest running aluminium fabricators. Leaders of the business celebrated the firm's 30th anniversary last year. CDW's expertise and market knowledge has seen it grow into one of the most well-respected specialists in the trade supply of aluminium window, door and curtain wall products, they say. For more information, visit www.cdwsystems.co.uk or call 01452 414 853.