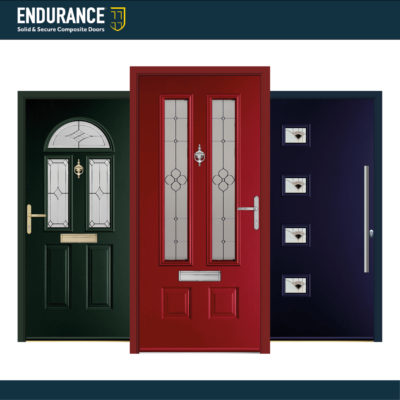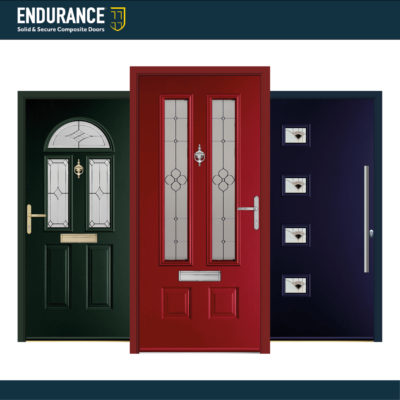 Endurance Doors has launched what it claims is the broadest range of foiled doorframe colours in the composite door sector, with the introduction of rich red, racing green and French navy, along with a new bespoke foiling service.
Thanks to the resources of the Rocal Group, the company behind the solid and secure Endurance Doors range, these three new door frame colours will be available from stock with a standard seven-10 day lead time, either foiled both sides or foiled on white. Through Rocal's in-house foiling division, customers can also order bespoke options on an extended lead time. For example, Chartwell green on the outside face of the door slab and frame, with foiled cream on the inner faces.
The range of finishes from Endurance Doors includes foiled white, cream, pebble, pearl grey, anthracite grey, schwarzbraun, Irish oak, golden oak, walnut, mahogany, rosewood, Chartwell green, turquoise pastel, rich red, racing green and French navy. Nearly 90% of all Endurance solid timber door slabs also harness the foiled CoolSkin door skins, which are said to be an identical match to the foils used on the doorframes, with the remaining colours typically offered with a white outer frame.
The introduction of these new matching foiled frames brings the number of door slab colours and woodgrains to 16, with 14 of these options available with a matching foiled door frame finish. The door frames specified are part of Rehau's latest five-chambered Total 70C system, which is also used for its FD30S rated fire door and is reinforced with recycled material, sourced from the extrusion division within the Rocal Group.
Stephen Nadin, managing director of Endurance Doors, commented: "The introduction of rich red, racing green and French navy as door frame colours has been an obvious development for us, given our group resources to further support our rapidly growing network of customers. With colour one of the key differentiators in the glazing industry as a whole, this is yet another example of our proactive approach to product development."